European Recovery: Manufacturing Data Good; Problems Still Loom for EU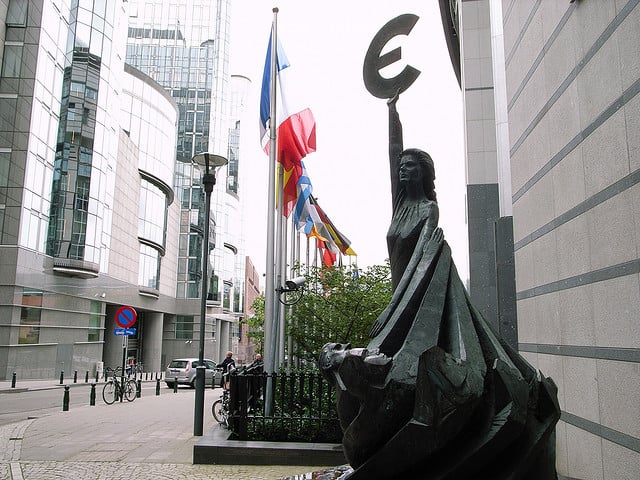 The road toward global growth never seems to have all of world's countries on it at the same time, as one country's economic enlightenment is usually offset by the struggles of another.
The trend is no different of late, as this week's PMI data shows that output for European manufacturers made significant headway, reaching its highest point in 18 months. The PMI composite out index came in at 50.4 and the manufacturing output index came in at 52.2, both above expectations. Numbers above 50 indicate expansion, while numbers below 50 are representative of contraction. A median forecast from a survey by Reuters didn't have estimates anywhere near that, and the news is much needed for struggling Europe. The effort toward recovery was led by Germany, where service sector growth hit a five-month high.
While the PMI numbers are good, significant problems still remain for the global community and Europe if both are to fully right course, beginning with outstanding governmental challenges in the European Union.
Greece and Portugal continue to test the euro zone for all it's worth: bailout funds flowing into Greece have not been wholly accompanied by the reforms necessary for the country to make the most of the emergency money and secure future cash from its lenders. A looming budget shortfall there could jeopardize its ability to procure money it needs from the International Monetary Fund in August to avoid default. However, if the country cannot find a way to fund itself for the next 12 months, the IMF will be unable to lend out the next payment.
Portugal has been a mess as well. The government has been shaken up by vocal dissonance from the socialist party, which is currently opposing the ruling coalition and seeking to renegotiate the terms of Portugal's bailout amid austerity fatigue. The Portuguese bond market has been extraordinarily volatile — political stability has plagued the country with question marks.
Europe's future is also dependent on China, a country in the midst of a profound economic restructuring. Slow Chinese growth is likely to hurt European firms that have thrived on a booming market there, and fears of a trade war over solar panels could make things worse.
Chinese business practices facilitated by the government, making their firms more competitive and their products cheaper, have been a longstanding issue with the West, and Europe is set to raise tariffs to intentionally harmful levels in August if it cannot resolve its complaints with China. Specifically, Europe feels that solar panels have been poured into the continent at submarket rates.
The United States has had similar problems with China and imposed tariffs on Chinese imports last year to offset the implicit advantage Chinese firms have in the marketplace. However, China will now set to impose tariffs in excess of 50 percent on a material used in solar manufacturing.
These trade disputes highlight the pains for all countries in finding growth. Should China find the domestic consumption it's looking for in the future, the market will be awash in opportunities for foreign firms to take advantage of the massive amount of consumers there, pending trade tensions don't worsen by then and more amicable agreements can be reached. Companies like Ford (NYSE:F) are already struggling to reach Chinese consumers in some cases, since protective import duties make foreign cars much more expensive.
The U.S., as it tries to get on the growth bandwagon, has recognized the value of trade with its European allies and has began negotiating what would be the largest free trade agreement in history when finished. The agreement is worth billions to each economy and seeks to streamline regulatory practices and eliminate tariffs to make businesses mutually thrive across the Atlantic.
Don't Miss: The Housing Recovery Story Receives a Pleasant Surprise.