Evercore Partners Earnings: Deal Making Heats Up
Although profit increased, Evercore Partners Inc.'s (NASDAQ:EVR) net income missed the mean estimate by 51.7%. An independent investment banking advisory firm that provides advisory services to prominent multinational corporations on significant mergers, acquisitions, divestitures, restructurings, financings and other strategic corporate transactions.
Don't Miss: Wall St. Cheat Sheet's newest Feature Trades of the Month!
Evercore Partners Earnings Cheat Sheet for the First Quarter
Results: Net income for Evercore Partners Inc. rose to $3.6 million (14 cents/share) vs. $2 million (9 cents/share) in the same quarter a year earlier. A rise of 77.6% from the year earlier quarter.
Revenue: Rose 25% to $106 million YoY.
Actual vs. Wall St. Expectations: EVR reported adjusted net income of 28 cents per share. By this measure, the company fell in line with the mean analyst estimate of 28 cents/share. Estimates ranged from 20 cents per share to 39 cents per share.
Quoting Management: "Our first quarter results began to demonstrate the potential of our strategy. Our core Advisory business continued the momentum of last quarter, advising on several of this year's most prominent transactions. Our strategic relationship with Mizuho was instrumental in our ability to advise Tokyo-based Terumo on its announced acquisition of U.S.-based CaridianBCT, the largest transaction for a Japanese company in the first quarter," said Ralph Schlosstein, President and Chief Executive Officer. "Our Capital Markets business achieved several milestones during the quarter, including generating revenues from more than 100 clients, and structuring the first ever IPO of a REIT in Mexico for Fibra Uno. Within Investment Management, AUM increased for the tenth consecutive quarter. Finally, we continued to make progress in improving our operating margins."
Competitors to Watch: Greenhill & Co., Inc. (NYSE:GHL), Lazard Ltd (NYSE:LAZ), FBR Capital Markets Corp. (NASDAQ:FBCM), KBW, Inc. (NYSE:KBW), Piper Jaffray Companies (NYSE:PJC), Jefferies Group, Inc. (NYSE:JEF), Cowen Group, Inc. (NASDAQ:COWN), Gleacher & Company, Inc. (NASDAQ:GLCH), Credit Suisse Group AG (NYSE:CS), Goldman Sachs (NYSE:GS), and Morgan Stanley (NYSE:MS).
Today's Performance: Shares of EVR are trading at $34.27 as of April 28, 2011 at 11:19 AM ET, up 0.5% from the previous closing price of $34.10.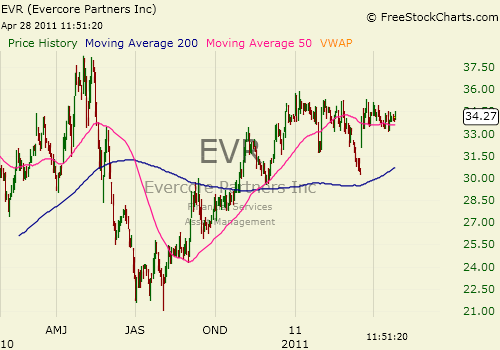 Don't Miss Wall St. Cheat Sheet's newest Feature Trades of the Month!