Evergreen Solar Earnings: Loss Widens, Falls Below Estimates
Evergreen Solar, Inc. (NASDAQ:ESLR) reported its results for the first quarter. Evergreen Solar, Inc. develops, manufactures and markets solar power products, including solar cells, panels and systems.
Don't Miss: Wall St. Cheat Sheet's newest Feature Trades of the Month!
Evergreen Solar Earnings Cheat Sheet for the First Quarter
Results: Loss widened to $33.4 million (93 cents/diluted share) from $23.9 million (loss of 72 cents/share) in the same quarter a year earlier.
Revenue: Fell 55% to $35.3 million YoY.
Actual vs. Wall St. Expectations: ESLR fell short of the mean analyst estimate of a loss of 55 cents/share. Estimates ranged from a loss of 85 cents per share to a profit of 13 cents per share.
Quoting Management: Mr. Michael El-Hillow, President and Chief Executive Officer, notes, "The success of a high volume solar panel manufacturer will be best reflected in its ability to decrease its total cost profile. We expect to achieve a total wafer cost of about $0.25 per watt by 2013 using our proprietary furnace technology. We also believe that String Ribbon technology provides a significant step function decrease in silicon and non-silicon wafer costs to enable a total silicon-based panel cost that will be significantly lower than $1 per watt within the next few years. Our initial pilot furnaces are now producing standard size wafers in Massachusetts. After extensive testing, we have begun sending sample lots from these furnaces to potential customers who are engaged in the evaluation of our standard size String Ribbon wafers."
Key Stats:
A year-over-year revenue decrease last quarter snaps a streak of four consecutive quarters of revenue increases. The best quarter in that span was the first quarter of the last fiscal year, which saw revenue rise 40.6%.
The company's cost of sales fell 20.7% from a year earlier to $57.4 million. Last quarter, cost of sales was 162.5% or revenue versus 92.3% a year earlier.
Competitors to Watch: SunPower Corporation (NASDAQ:SPWRA), Energy Conversion Devices, Inc. (NASDAQ:ENER), First Solar, Inc. (NASDAQ:FSLR), LDK Solar Co., Ltd (NYSE:LDK), Trina Solar Limited (NYSE:TSL), Suntech Power Hldgs. Co., Ltd. (NYSE:STP), Hoku Corporation (NASDAQ:HOKU), Yingli Green Energy Hold. Co. Ltd. (NYSE:YGE), DayStar Technologies Inc. (NASDAQ:DSTI), and Ascent Solar Tech., Inc. (NASDAQ:ASTI).
Stock Performance: Shares of ESLR are down 14.89% from the previous close.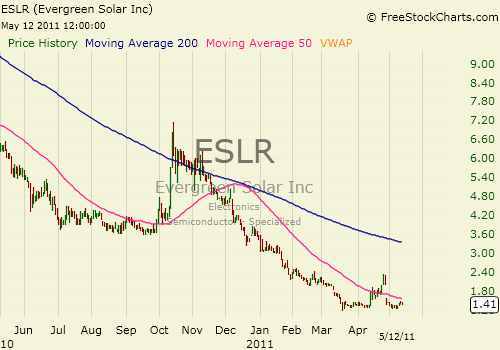 Don't Miss Wall St. Cheat Sheet's newest Feature Trades of the Month!