Everything Housing Investors Need to Know Now: Weekly Recap
Here's your Cheat Sheet to the most important housing econ releases from the week, and how the biggest stocks reacted…
Existing Home Sales
The housing market continues to benefit from low mortgage rates and inventory levels, as existing-home sales edged slightly higher last month.
On Thursday, the National Association of Realtors announced that total existing-home sales, which are completed transactions that include single-family homes, town-homes, condos, and co-ops, increased 0.4 percent to a seasonally adjusted annual rate of 4.92 million units in January. It was the second highest rate of sales since November 2009 and a 9.1 percent improvement from the 4.51 million-unit pace a year earlier.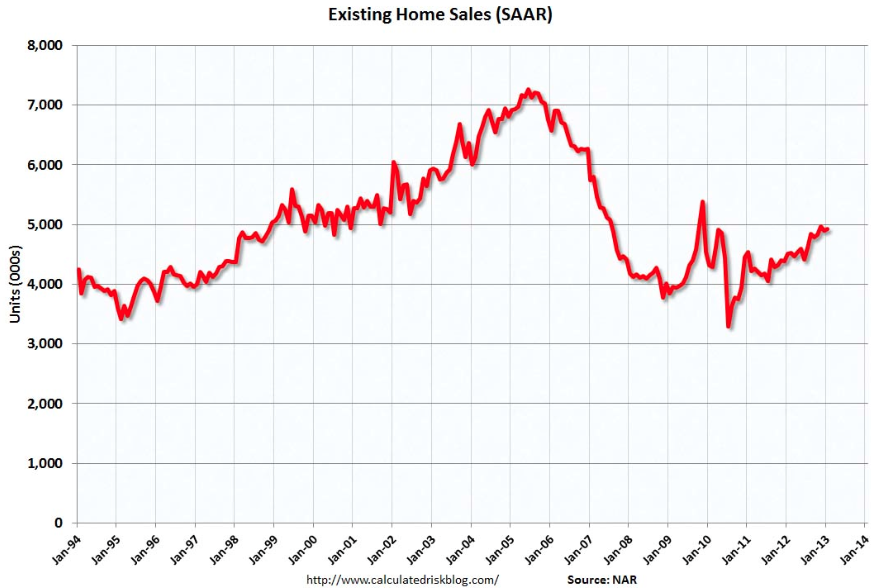 Analysts and economists polled by Reuters and Bloomberg both expected a 4.9 million-unit pace in existing-home sales. The December rate was revised downwardly to 4.9 million units.
Tight inventory is still a major factor in the so-called housing "recovery" story. Lawrence Yun, NAR chief economist, explains, "Buyer traffic is continuing to pick up, while seller traffic is holding steady. In fact, buyer traffic is 40 percent above a year ago, so there is plenty of demand but insufficient inventory to improve sales more strongly. We've transitioned into a seller's market in much of the country."
Total housing inventory dropped almost 5 percent to 1.74 million existing homes available for sale at the end of January. This equals a 4.2-month supply at the current sales pace, down from 4.5 months in December, and the lowest housing supply since April 2005.
Compared to last year, listed inventory is 25.3 percent lower, when there was a 6.2-month supply. Raw unsold inventory is at its lowest level since December 1999.
According to Freddie Mac, the national average commitment rate for a 30-year conventional fixed-rate mortgage increased to 3.41 percent in January, compared to a record low 3.35 percent.
However, home prices are still receiving support. The national median exiting-home price for all housing types was $173,600 last month, a 12.3 percent jump from a year earlier and the strongest month since November 2005. Home prices have now increased for 11 consecutive months on a year-over-year basis.
Don't Miss: Are You Preparing Enough for Retirement?
Housing Starts
Like much of the economic data released in recent months, the Commerce Department's Wednesday report on U.S. homebuilding gave a picture of an improving, but still incomplete, recovery.
For the month of January, housing starts fell by 8.5 percent to a seasonally adjusted rate of 890,000. Comparing this figure to both the previous month's numbers and those of last January show that the housing recovery still faces some obstacles. In December, homebuilders began construction on 973,000 new homes, while in January of 2012, new-home construction was up 23.6 percent. Economists were not overly optimistic ahead of the report, but they had been predicting slightly better results. A decrease in housing starts of 3.1 percent was set as their consensus estimate, according to a survey conducted by Dow Jones Newswires.
However, there were signs of growth. Construction of single-family homes, a segment of homebuilding that represented approximately two-thirds of all new housing starts last month, increased 0.8 percent to a rate of 613,000 units, a gain of 20 percent from a year earlier. In addition, the construction of single-family homes was at its highest level since the financial crisis began.
The single-family home construction figures provided a sign that the housing market is improving, as did the increase in the number of new building permits. The number of new permits, an indication of future construction, jumped 1.8 percent to an annualized level of 925,000 last month. This is the highest level reached since June 2008, and it surpassed analysts expectations for a rate of 920,000…

The housing market has been pegged by economists as a bright spot in the U.S. economy and an important driver of growth. Last month, the Commerce Department stated, according to The Wall Street Journal, that spending on home construction and home improvements contributed to economic growth in each of the past seven consecutive quarters. Yet, housing starts remain below historic levels; last year construction began only 780,000 homes. This year, the United States is on pace for modestly higher annual results.
Some areas of the country reported extremely divergent results; housing starts dropped 35.3 percent in the Northeast and 50 percent in the Midwest, while the West saw an increase of 16.7 percent and the South experienced a 4.1 percent gain.
Luxury home builder Toll Brothers (NYSE:TOL) capitalized on these gains in the housing market, swinging to a profit for the quarter ended January 31. However the company, which is largest builder of luxury single-family homes in the United States, missed Wall Street's expectations with the results reported on Wednesday.
Investing Insights: Is FedEx Still an Outperform?
Homebuilder Confidence
After reaching multi-year highs, confidence among U.S. homebuilders unexpectedly dropped in February. The surprise is causing a quick reality check among housing-related stocks.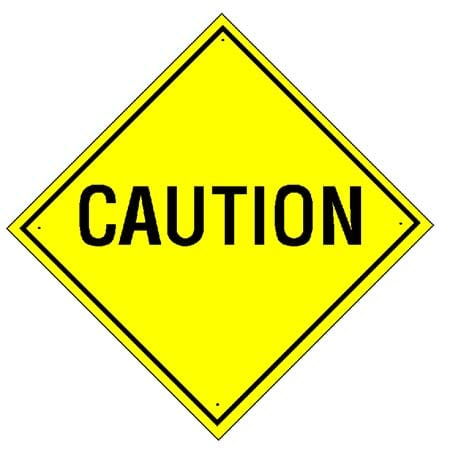 The National Association of Home Builders/Wells Fargo builder confidence for newly built, single-family homes dropped to 46 this month, compared to January's 47 reading, which was the best level since April 2006.
It was the first drop in almost a year and the first miss since April 2012. The median forecast in a Bloomberg survey of 50 economists expected the confidence index to increase to 48. Readings under 50 indicate more respondents think conditions are poor. The index was first published in 1985, and averaged 54 in the five years leading up to the recession.
"Following solid gains over the past year, builder confidence has essentially leveled out and held in the same three-point range over the last four months," noted NAHB Chairman Rick Judson, a home builder from Charlotte, N.C. "This is partly due to ongoing uncertainties about job growth and consumer access to mortgage credit, but it's also a reflection of the fact that builders are now confronting rising costs for building materials and, in some markets, limited availability of labor and lots as demand for new homes strengthens."
Here's how home related stocks closed the week…
Lennar (NYSE:LEN): Current price $37.88

D.R. Horton (NYSE:DHI): Current price $22.31

Lowe's (NYSE:LOW): Current price $37.67

Home Depot (NYSE:HD): Current price $65.58

KB Home (NYSE:KBH): Current price $17.91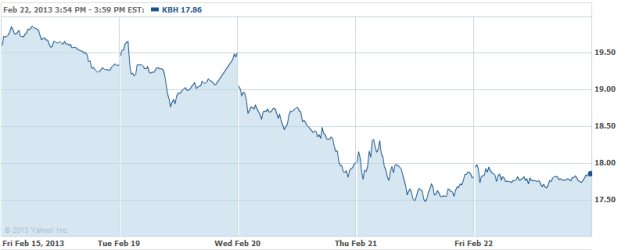 Toll Brothers (NYSE:TOL): Current price $34.59

PulteGroup (NYSE:PHM): Current price $18.90

Don't Miss: What Happens When Pennies and Nickels Become Too Expensive?