Everything You Need to Know About the Tesla Model 3
The future is here, and it's Tesla's biggest make-or-break moment yet. The future, of course, is the Model 3 — the $35,000 compact premium EV that could legitimize the electric car once and for all, spell doom for the internal combustion engine, and make Tesla one of the largest players in the automotive industry.
Since the company's meteoric rise after the launch of the 2012 Model S sedan, the company has sold itself as the next big thing. The Model S almost single-handedly established the foothold for EVs in the U.S. And along with the Model X, it has redefined what constitutes a luxury car or, for that matter, a performance car.
All along, the largest names in the industry have been scrambling to build a "Tesla-killer," not because it poses much of a threat as is but because of what it could be. In the 15 or so months since the Model 3 was unveiled, nearly 500,000 people have put down a $1,000 deposit to buy the potentially historic car. By the end of 2018, company chief Elon Musk said the company could build as many as 200,000 Model 3s a year. That's enough to keep any CEO in the business up at night.
If the Model 3 can deliver on its big promises, it could fundamentally change the way many of us drive and think about our cars. If it can't, it's set up to become one of the biggest flops in automotive history. We've come up with a list of everything you need to know about this much-hyped electric car. 
1. It's early for a Tesla
When it was unveiled on March 31, 2016, Musk announced early customers could expect delivery by summer 2017. That was taken with a big grain of salt, considering Tesla's first car, the Roadster, was nine months late, the Model S was six months late, and the troublesome Model X was a full two years late. But with the first cars rolling off the line in July 2017, Musk and company are signaling they've got everything in order and are ready to play hardball.
Next: This Tesla won't cost anywhere near six figures. 
2. It'll be cheap-ish
In summer 2016, Musk said the average Model 3 will cost around $42,000. But for the rest of 2017, there will be two versions of the Model 3 available: The $35,000 base car and a longer range model with a bigger battery pack for $44,000. Standard cars are black with 18″ wheels. Larger wheels and other colors are $1,000 options. There are also two $5,000 options packages, and one $3,000 package (more on these later). By keeping things simple, the first batch of cars will likely roll off the line close to the $35,000 base price Tesla has been promising all along. It'll also likely avoid many of the problems that plagued the complex Model X during its rollout.
Next: The first buyers will get some help from Uncle Sam. 
3. It's tax-deductible if you're an early adopter
As an added bonus, early Model 3 customers will be able to deduct up to $7,500, thanks to federal tax breaks for EVs, dropping its price into the $28,000 range. But if you're farther down on the waiting list, you might want to call your congressman. The tax credit reduces by 50% after an automaker sells more than 200,000 EVs in the U.S., and then it cuts in half again every six months until it's phased out. Considering that Tesla passed the 100,000 mark earlier this year, later customers might find themselves out of luck unless the law changes.
Next: The ultimate EV probably won't want to be called an EV. 
4. You won't need to make many compromises
Despite the growing acceptance of EVs, their biggest obstacle is still "range anxiety," the very real fear people have of getting stuck with an electric car that ran out of juice. Tesla is confident the Model 3 can make this a thing of the past. The company promises at least 220 miles on a single charge on base model cars. On long-range cars, distance increases to an impressive 310 miles. It also says the Model 3 will score a five-star safety rating and comfortably seat five adults. In other words, don't treat it like an EV. Treat it like a car.
Next: Tesla is aiming for some pretty big names. 
5. It's premium by design
Much ado has been made about the Chevy Bolt-Model 3 rivalry, but Tesla is already looking beyond the Bowtie Brand. The company insists this is a premium compact sedan, so like most segment entries people judged it against the BMW 3 Series. If the car can transcend the EV segment like the bigger Model S has, its chief rivals will be the BMW, Mercedes C-Class, Audi A4, Lexus IS, Cadillac ATS, and Jaguar XE. That's pretty good company if you ask us.
Next: The smallest Tesla might get "ludicrous."
6. It'll be quick
Tesla has shown just how potent electric cars can be. Despite weighing over 2 tons each, both the Model S and Model X can scramble from zero to 60 in under 2 seconds in dual-motor P100D configuration. Although Tesla has confirmed a dual-motor version will be available eventually, we still don't know whether the hottest Model 3 will hypercar-quick like its larger stablemates. For now, the company stands by its 5.6-second zero-to-60 time with the base, rear-wheel drive car. The long-range version with its larger battery pack will hit the zero to 60 mark in 5.1 seconds.
Next: There's something familiar about the Model 3.
7. What we've seen is what we'll get
When it was unveiled in March 2016, Musk said what we were seeing was a prototype, and the final version would be different inside and out. Real-world sightings around the San Francisco Bay area confirmed that the production Model 3 wasn't changing much, and now that it's here, we know that the minimal, single-screen interior design is a go.
Not that it's a bad thing. Its exterior design is a fine evolution of Tesla's design language. And the interior, with its clean dash and single touchscreen for all gauges and controls, is an exercise in minimalism. With dashboards getting more stylized and cluttered by the year, the Model 3 could be a breath of fresh air.
Next: This standard feature is radically cutting-edge.

8. It's semi-autonomous
Every Model 3 will have the hardware for Tesla's semi-autonomous Autopilot system, but with about $8,000 of extras, it will practically drive itself. The $5,000 Enhance Autopilot package will allow your Model 3 to keep up with traffic, change lanes, enter and exit highways, and park itself — provided you're alert behind the wheel. For an additional $3,000, Tesla will include the Full Self-Driving Capability hardware to make the Model 3 fully autonomous. As soon as the automaker gets the green light from the feds, your new car will be able to completely drive itself.  By offering this package now, Tesla is signaling that it's confident that that day will come sooner than later.
Next: The waiting game isn't over just yet. 
9. Don't clear garage space for it just yet
Between March 31, 2016, and July 28, 2017, some 500,000 people have put down a $1,000 deposit on a Model 3. Even if you're one of these optimistic early adopters, you probably aren't going to get one until at least late 2018. If you're at the end of the list, here's some consolation. By the time you get yours, Tesla will have probably worked any of the kinks out of it.
Next: Could the Model 3 finally clear this EV hurdle?
10. Bye bye range anxiety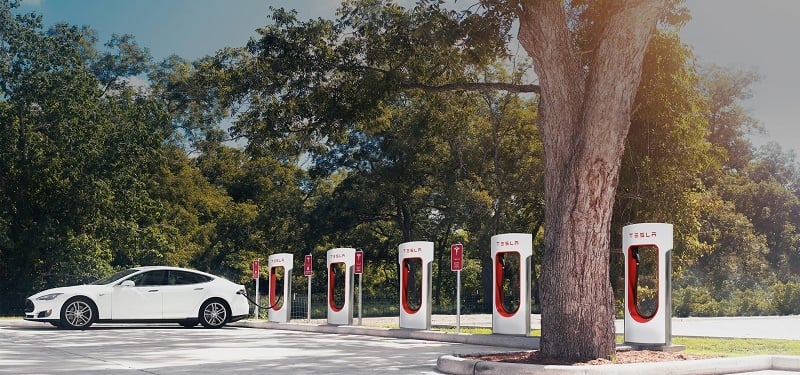 On top of the 220 to 310 range, Tesla has designed the Model 3 to be compatible with its Superchargers. That means that in just 30 minutes, you'll be able to regain 130 miles in the base car and 170 miles in the long-range model. It still isn't as quick as stopping at the pump, but it you won't be stranded at the charging station all day either.
Next: You may have to wait, but now you can figure out how long. 
11. The secrecy is over
In the lead-up to the Model 3 launch, customers with reservations began complaining that they were completely in the dark about the rollout timeline. No longer; after the handover event, Tesla now has an production timeline and estimated delivery calculator for reservation holders. You'll probably still be waiting a while, but at least you have an idea of when to expect your new car.
Next: Whatever happens, here's why this is a big deal. 
12. This is the make-or-break moment for Tesla
Despite Tesla's meteoric rise, its future is far from certain. Much of its market value is based on the company's potential. Despite the relatively modest success of the Model S, the Gigafactory battery plant has just come on line, its Powerwall battery and Solar Roof shingles have yet to be sold en masse, and lawsuits from workers and consumers continue to dog the company.
But Tesla has shown it has realistic enough plans to change the world. And the Model 3, the affordable electric car for the masses, is an essential part of that. If the car delivers as promised, then someday Elon Musk could be mentioned in the same breath as Henry Ford. If it doesn't, then the company might become another one of history's great "what ifs."
More from Money & Career Cheat Sheet: