Ex-Nokia Employees Debut First Smartphone and 2 Other Hot Stocks to Watch
Nokia Corp. (NYSE:NOK): Current price $7.89
Jolla, a Finnish independent phone maker created by several ex-Nokia staff, will debut its first smartphone on November 27. Its first Sailfish OS device is a mid-range handset equipped with a low-resolution qHD (960 x 540) 4.5-inch display, an 8-megapixel camera, LTE, 16 gigabytes of internal storage, and microSD support. The device will go for 399 euros, or about $535 including sales tax, which is admittedly more than similar product, but Jolla hopes that he allure of a new operating system will win over consumers in Finland. The firm is working with local carrier DNA to sell its products.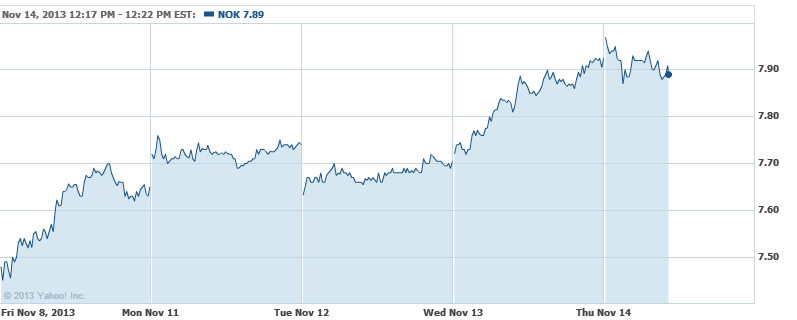 Citigroup Inc. (NYSE:C): Current price $50.22
Citi has been given a mandate to supply private equity administration services to the private equity firm MB Global Partners, founded by Chief Executive Maria Boyazny in 2010, which oversees capital on behalf of Fortune 50 companies, American and Canadian pension funds, foundations, family offices, and other investors. Boyazny commented that, "Citi's deep understanding of our business as well as its proven track record of service delivery were decisive factors in our decision to select Citi. We are confident that services provided by Citi will help bring an optimal level of efficiency and transparency to our investors."

Barrick Gold Corp. (NYSE:ABX): Current price $18.10
On Thursday, Barrick announced that it has finalized its previously reported bought-deal equity offering of 163.5 million common shares at a price of $18.35 apiece, for net proceeds of round $2.9 billion. As a result, Barrick's common shares outstanding have increased to some 1.16 billion. The underwriting syndicate was headed by RBC Capital Markets, Barclays, and GMP Securities LP.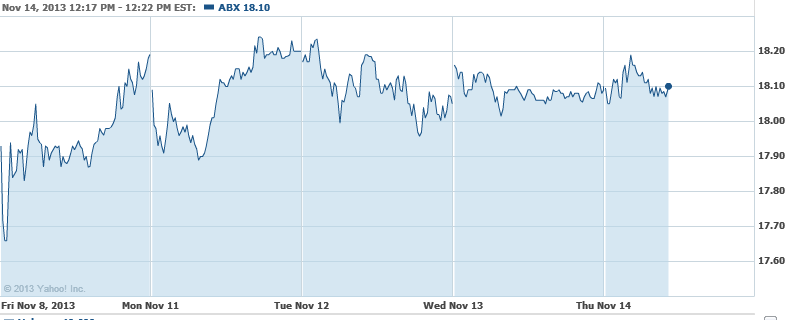 Don't Miss: 5 Ways Bezos and Mayer Are More Similar Than You Think.