Excluding Federal Employees, Workers Say Job Creation Is Stable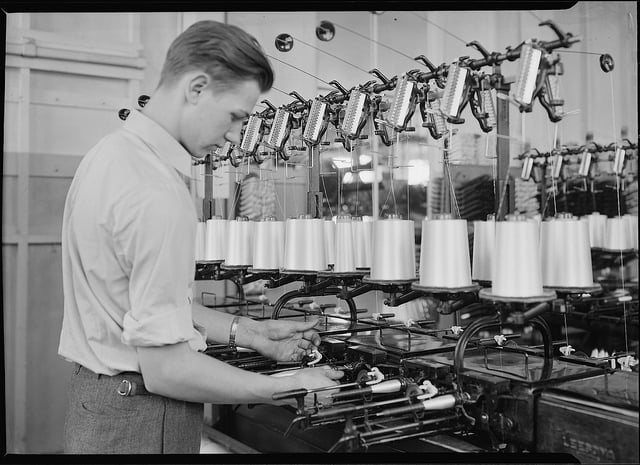 Recent measurements of the health of the labor market are all saying the same thing: that it has improved since the Great Recession but overall hiring has yet to pick up significantly. Gallup's July poll of labor market confidence — which takes into account the percentage of United States workers who say their employers are hiring and expanding their workforces — was no exception.
Gallup's U.S. Job Creation Index remained relatively stable for July at a level of +21; in fact, it would have matched June's reading of +22 had it not been for a sharp drop in the the federal jobs component. The 12-point dip put the federal job index at -17, its lowest since the sequester took effect in March.
In June, United States workers felt slightly more positive about their workplace hiring conditions, and as a result, the index hit a five-year high. Businesses added 188,000 jobs that month, a marked increase from the 134,000 jobs added in May, while a report from the outplacement consultancy firm Challenger Gray & Christmas pointed to a noticeable slowdown in job cuts during the first six months of 2013.
Layoffs are still down, and the ratio of unemployed workers to job openings has narrowed, but the economy created a disappointing 162,000 jobs in July, the smallest number added to payrolls since March and far fewer than what economists expected. That firings remain low, the pace of hiring is stagnating, and job openings are growing could be an indication that employers are hoarding workers until the economic outlook improves. If that is indeed the case, it would explain the lack of movement in Gallup's index.
"The U.S. jobs market looks fairly flat on the surface, with Gallup's overall Job Creation Index holding steady at a relatively high level in recent months, and up slightly compared with a year ago," Gallup's Lydia Saad said in a release. "However, this masks significant changes in hiring within the federal government, as well as in certain regions of the country."
Gallup found that federal workers reported more layoffs and less hiring in July than they did in June, which could be a result of the federal spending cuts known as sequestration. The poll also discovered that job creation remained relatively strong in the Midwest and improved in the South and the West, although hiring did drop in the East. In fact, the Western region of the United States reported a surge in net hiring over the past 12 months.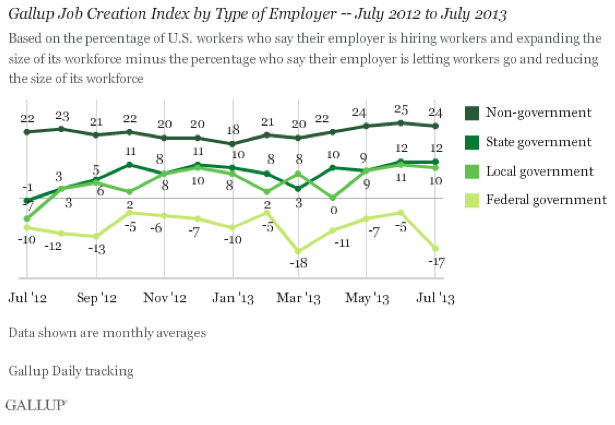 But Gallup's survey does not shed any light on the type of jobs that are being created. As the Department of Labor's July Employment Situation Report showed, much of the month's hiring was concentrated in part-time or contract employment in low-wage industries. Retailers led job gains with 47,000 additions, and restaurants and bars added 38,000.
Together, four low-pay sectors — retail, restaurants, temporary staffing firms, and home health care — accounted for 60 percent of the jobs added in July. So far this year, those sectors have made up 45 percent of the country's 1.3 million payroll additions. Since March, the number of part-time workers has swelled by 791,000 while the number of full-time workers has risen 187,000. Making that disparity even more glaring is the fact that there are 116.1 million full-time workers in the United States and just 28.2 million part-time workers.
Another concern for the labor market is the fact that Americans' confidence in the economy worsened in July, dropping to a reading of minus 12 on Gallup's index, the lowest it has been in any month since April.
Follow Meghan on Twitter @MFoley_WSCS
Don't Miss: A Tale of Two Economies: How the US and EU are Recovering.