Exelon Corporation Earnings: Revenues Rose, but Net Income Dropped
S&P 500 (NYSE:SPY) component Exelon Corporation (NYSE:EXC) reported its results for the first quarter. Exelon Corp. is a utility services holding company that distributes electricity and natural gas and is a major nuclear operator.
Don't Miss: Wall St. Cheat Sheet's newest Feature Trades of the Month!
Exelon Earnings Cheat Sheet for the First Quarter
Results: Net income for Exelon Corporation fell to $668 million ($1.01/share) vs. $749 million ($1.13/share) a year earlier. A decline of 10.8% from the year earlier quarter.
Revenue: Rose 13.2% to $5.05 billion YoY.
Actual vs. Wall St. Expectations: The mean estimate of analysts was $1.05 per share with adjustments.
Quoting Management: "Our first quarter earnings were above our expectations primarily driven by results at Generation, including the performance of our generating units during a February cold snap in the Dallas area," said John W. Rowe, chairman and chief executive officer. "Our operating and financial performance in the first quarter keeps us comfortably on track to be within our earnings guidance range of $3.90 to $4.20 per share. Our nuclear operations also had a strong quarter, with a 94.8 percent capacity factor. Our fleet remains safe and reliable, and we are working closely with regulators, policymakers and the industry to ensure we stay current with any lessons learned from the Fukushima (NYSE:EWJ) event."
Key Stats:
The company has now seen net income fall in each of the last two quarters. In the fourth quarter of the last fiscal year, net income fell 9.8% from the year earlier quarter.
Competitors to Watch: NextEra Energy, Inc. (NYSE:NEE), Entergy Corporation (NYSE:ETR), El Paso Electric Company (NYSE:EE), Constellation Energy Group, Inc. (NYSE:CEG), PPL Corporation (NYSE:PPL), ALLETE, Inc. (NYSE:ALE), FirstEnergy Corp. (NYSE:FE), Integrys Energy Group, Inc. (NYSE:TEG), and Xcel Energy Inc. (NYSE:XEL).
Bonus: Utility ETFs: The Top 5 Exchange Traded Funds for Your Utility Investing List.
Today's Performance: Shares of EXC are trading at $41.39 as of April 27, 2011 at 10:44 AM ET, up 0.53% from the previous closing price of $41.17.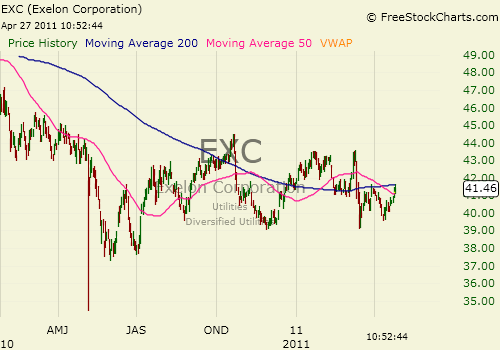 Don't Miss Wall St. Cheat Sheet's newest Feature Trades of the Month!