Exxon and Chevron Boost the Dow Jones Industrial Average This Week
Exxon Mobil Corporation (NYSE:XOM): Current price $89.99
Exxon Mobil has commenced production at its Kearl oil sands project in Alberta, which is forecast to produce 4.6 billion barrels of recoverable oil in the next 40 years. Some 110,000 barrels per day are projected to be produced later in 2012, and that amount should double by late 2015, according to a company statement. The Kearl site lies 46 miles northeast of Fort McMurray, Alberta, and is operated by Imperial Oil (AMEX:IMO), while the site itself is 70-percent owned by Exxon Mobil.
Exxon Mobil concludes its top-level sponsorship of the Masters Tournament, while United Parcel Service  (NYSE:UPS) joins the partner rolls of the annual major championship at Augusta. Meanwhile, Daimler's Mercedes-Benz, which has sponsored the Masters since 2008, will be elevated to replace Exxon Mobil as one of three world sponsors of the tournament, joining IBM and AT&T. UPS will take over Mercedes-Benz's prior role and join Rolex as an international sponsor.
On Thursday, Exxon officials and regulators were checking out the cause of a small oil leak from the Pegasus pipeline in southeast Missouri, marking the second leak from the 850-mile pipeline within a month. This latest leak was uncovered Tuesday near Doniphan, Missouri, a small town just north of the Arkansas border. Roughly one barrel spilled into retiree Robert Cooley's yard. Spokesman Russ Roberts said Thursday that the cleanup was almost complete, commenting that "ExxonMobil is working with the U.S. Department of Transportation and other regulators to determine the cause of the leak, but it appears a third party might be involved."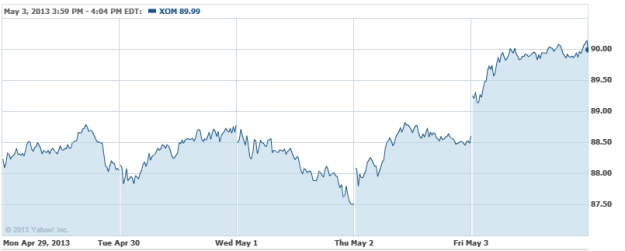 Don't Miss: Has Novartis Been Bribing Your Doctor?

Chevron Corporation (NYSE:CVX): Current price $123.39
The Ontario Superior Court Justice David Brown has turned aside a bid by Ecuadorian villagers to have a Canadian court enforce the $19 billion judgment against the oil major Chevron Corp, ruling that the Canadian courts lack jurisdiction to enforce the controversial award handed down by an Ecuadorian court against the company. The award to the plaintiffs was made in Ecuador because of black sludge contamination of a rainforest between 1972 and 1990 by Texaco, which Chevron acquired in 2001. The oil giant maintains that it will not pay, saying that Texaco dealt with the problem before it was purchased.
Chevron Canada Limited announced that its Delo Truck is heading for Canada the first time in 2013. The Truck will stage 11 appearances in support of Chevron lubricant marketers and their customers' locations, in Ontario, Quebec, New Brunswick and Newfoundland during a three-week period starting May 6. The Truck, which is an ambassador-on-wheels for the Delo brand, was introduced in August of 2011. Whilst in exhibit mode, the Delo Truck measures 6.8 meters wide and has learning stations created to educate customers and the general public on key market issues, Delo tech, and the importance of premium performance heavy-duty engine oils, lubricants and coolants.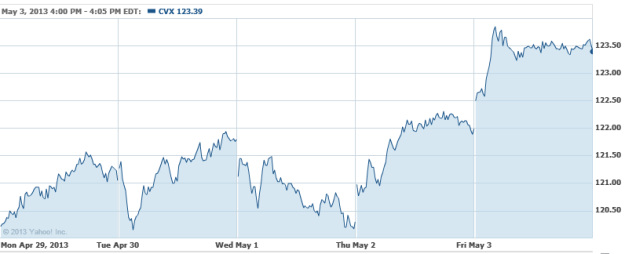 Investing Insights: Can Dell See Higher Prices?