Exxon and Chevron's Energy Stock Buzz This Week
Chevron Corporation (NYSE:CVX): Current price $123.29
Because of the refinery fire in August 2012, the city of Richmond, California, is getting 'lawyered up' against Chevron, according to the Contra Costa Times.  Richmond prefers the San Francisco-based Cotchett, Pitre & McCarthy, which is the same law firm that represented San Bruno residents in a suit against Pacific Gas & Electric for a gas-line rupture and explosion back in 2010. In late March, Cotchett Pitre also filed a class-action lawsuit against Chevron and Chevron units, claiming that the company defrauded royalties owners, says the firm's website. In April, Chevron announced that the fire-damaged refinery would be fully restored in the second quarter.
YPF says that Chevron will become the first top oil company to partner with it to develop shale oil with a final agreement expected for July. Chief Executive Miguel Galuccio of YPF, and Chevron's chief of Latin America, Middle East, and Africa Ali Moshiri visited the Patagonia shale formation Tuesday and met with Neuquen's governor Jorge Sapag, according to an e-mailed statement from YPF.
On Thursday, the former Ecuadorian judge Zambrano, who signed off on a $19 billion environmental judgment against Chevron in February 2011 did not show up to testify as to whether he actually wrote it. The judge's failure to appear at a deposition, which was set to occur in Lima, will probably taint the judgment's perceived legitimacy in the opinions of United States judges and theoretically that of other judges around the world. Chevron attorney Andrea Neuman commented in an email that, "Given the unchallenged evidence proving he let the Ecuadorian plaintiffs write their own $19 billion judgment. Judge Zambrano's refusal to testify is more predictable than surprising. The other members of the plaintiffs fraud team — [lead Ecuadorian lawyer] Pablo Fajardo and [community liaison] Luis Yanza — have likewise refused to testify on behalf of their clients or their 'judgment."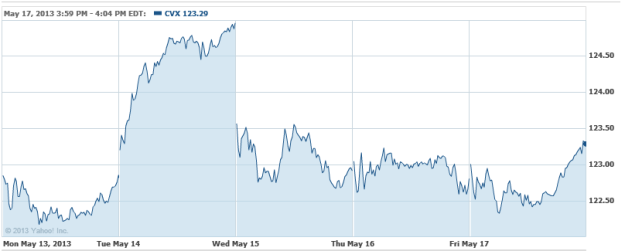 Exxon Mobil Corporation (NYSE:XOM): Current price $91.76
A filing from federal regulators indicates that the restrictions on Exxon Mobil's Pegasus crude oil pipeline, which has been shut since March 29 following a spill, remain in place after the firm requested changes in a hearing held on May 2. Exxon advised the United States Pipeline and Hazardous Materials Safety Administration that a 211-mile southern section of the pipeline posed less risk since it was constructed more recently than the northern portion that spilled some 5,000 barrels of oil near Mayflower, Arkansas. However, the regulators noted at the hearing that the newer section, constructed in 1954, had a seam failure during a prior hydrostatic test.