Exxon CEO: Gas Permit Delays Are Hurting the U.S.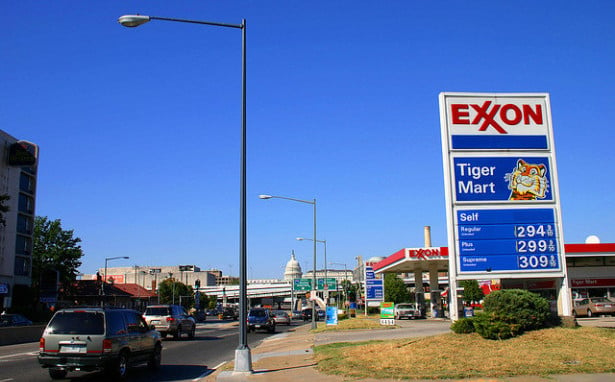 During President Barack Obama's tenure in the White House, soaring production of natural gas from horizontal drilling and hydraulic fracking has pushed supplies to record highs in each of the past four years. Now, the United States produces more natural gas than it can use, and as a result, prices have plummeted to approximately $4 per million British thermal units. With producers clamoring for Obama to approve liquid natural gas exportation, his administration has given been given an opportunity to make an important decision regarding the United States' energy future.
On Wednesday, Rex Tillerson, Chief Executive Officer of Exxon Mobil (NYSE:XOM) — the largest natural gas producer in the United States — made a public appeal, arguing that government delays of natural gas export permits only hurt the United States. At an event hosted by the Asia Society, which was focused on Asian energy security, he noted that such delays are costing U.S. companies million of dollars a day and giving foreign rivals looking to boost exports an opportunity.
"It's a very competitive marketplace. It's not like people are just going to stand at our door like panting dogs just waiting for us to give this (liquified natural gas) to them," Tillerson said, according to Reuters.
When supply eclipses demand, as in the current situation, the only way to increase prices is to reduce the supply or increase demand. Reducing the supply is not an easy proposition for natural gas producers; their contracts on wells often require them to keep drilling in order to maintain the less. But demand for natural gas in the U.S. appears to have reached a ceiling. Therefore, the best way to boost demand is to access new markets abroad, especially ones where the price of natural gas is much higher.
But companies in the United States need authorization from the Department of Energy to export gas to all but a small number of countries with free trade agreements. Abroad, demand is strong; Japan, which has almost no natural gas resources, is keen to access the U.S. supply as the fuel currently costs about $17 per million BTU in the country, as is India.
The comments made by Tillerson came just hours after new U.S. Energy Secretary Ernest Moniz told lawmakers in Congress that he would like to "expeditiously" begin evaluating the more than a dozen applications awaiting approval to export liquefied natural gas, or LNG. The Department of Energy ended a two-year freeze in reviewing export applications in May, when it approved gas exports to all countries from Freeport LNG's terminal in Texas — a development partly owned by ConocoPhillips (NYSE:COP), Dow Chemical (NYSE:DOW), and Osaka Gas. After that decision, Moniz, who was sworn in on May 21, said he would thoroughly review the gas export application process.
At his first appearance before a Congressional panel, Moniz informed lawmakers at a House Energy and Commerce committee hearing on Thursday that the review should wrap up shortly. "We're getting ready to begin evaluating the dockets on a case-by-case basis," Moniz said. There will "absolutely" be additional decisions made this year, he added, without giving more specifics.
Still, Exxon's Tillerson said at the event that he left a meeting with Monize on Wednesday with no clear idea of when the company's $10-billion Golden Pass LNG project would be approved. "I don't want to start on this process if you tell me it's going to take five years for you to get around to my application," he said.
Follow Meghan on Twitter @MFoley_WSCS
Don't Miss: Why Is ExxonMobil Teaming Up With Russia?