Exxon Mobil Is Feeling the Pressure of High Drilling Costs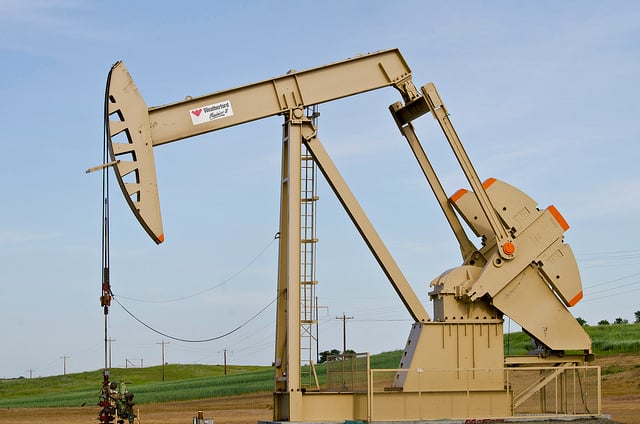 Exxon Mobil Corp. (NYSE:XOM) reported third-quarter financial results on Thursday morning, beating expectations for revenue and earnings but still showing the strain of increased spending on drilling. The oil major posted revenue of $112.4 billion versus analyst expectations of $107.4 billion and last year's results of $115.1 billion for the same period. Exxon Mobil's earnings per share for the quarter came in at $1.79 versus expectations of $1.77 and last year's figure of $2.09. Exxon's profit fell 18 percent to $7.78 billion from $9.57 billion a year ago.
Chairman Rex Tillerson said in the company's earnings report: "Production of oil and natural gas increased from a year earlier, as new projects were brought on line and maintenance-related downtime decreased. Significantly weaker refining margins as a result of increased industry capacity negatively impacted Exxon Mobil's downstream earnings."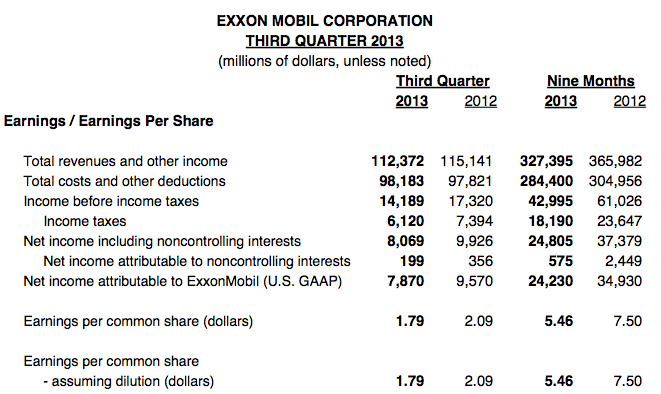 Exxon's oil production increased 1.5 percent year over year in the third quarter. Oil companies are under increasing pressure to spend more money to drill in inhospitable locations while collecting fewer barrels for their efforts. According to a report from Barclays released at the beginning of the summer, oil companies will spend $678 billion globally this year. That figure is a 10 percent increase from 2012.
Between 1985 and 1999, global oil production grew 25 percent while spending increased by 40 percent, according to the Barclays report. In the years since 1999, oil production has increased another 25 percent, but spending has grown a whopping 640 percent in that time.
Exxon Mobil also gave a progress report on several new projects in the release — the Esso Australia Pty Ltd.-operated Kipper Tuna Turrum project started drawing natural gas from the Tuna field and crude oil from the Turrum field during the quarter. "The project is the largest domestic oil and gas development on Australia's eastern seaboard and will help secure Australia's energy future," the company said.
Exxon Mobile Canada also purchased ConocoPhillips's (NYSE:COP) share in the Clyden oil sands lease in Alberta, Canada, as the midwestern U.S. and Canada continue experiencing an oil boom through new hydraulic fracturing techniques.
Exxon will hold its earnings call at 11 a.m. EDT.
Follow Jacqueline on Twitter @Jacqui_WSCS
Don't Miss: Top 10 Most Expensive States for College.