Exxon Mobil & Petrom Resume Black Sea Drilling and 2 Other Dow Movers to Watch
Exxon Mobil Corporation (NYSE:XOM): Current price $88.83
Exxon Mobil says that it and Petrom, which is majority-owned by Austria's OMV, and the number-one oil and gas firm in Romania, will resume exploration drilling in their offshore Black Sea block at the end of 2013, or in early 2014. The two firms have finished a 3D seismic study on the Neptun block, and contracted a drilling rig from Diamond Offshore Drilling to be employed for exploration. In a statement, ExxonMobil and Petrom "expect to invest up to U.S. $1 billion in the exploration program, which comprises the 3D survey now completed and further exploration and appraisal drilling."

Hewlett-Packard Co. (NYSE:HPQ): Current price $23.93
On Tuesday, Hewlett-Packard said it has been chosen as the official tech partner to Oriental DreamWorks, which is a joint venture between the China consortium led by China Media Capital and Hollywood's DreamWorks Animation. The venture will supply unique and creative content by becoming a family brand that regularly develops entertainment in China, for China, and also for export on a global basis. This announcement expands a decade-long collaboration between HP and DreamWorks Animation SKG.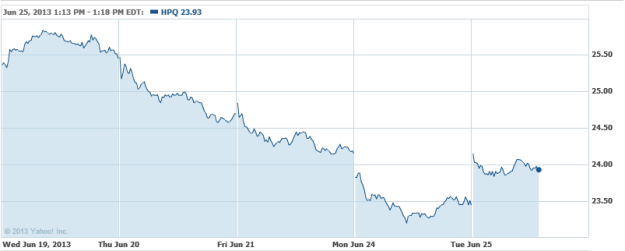 International Business Machines Corporation (NYSE: IBM): Current price $194.87
IBM announced the intro of Digital Delta, a breakthrough innovation program that will collect insights from Big Data to significantly change flood control and the management of the entire Dutch water system. This program is in collaboration with the Dutch Ministry for Water, Rijkswaterstaat, local Water Authority Delfland, Deltares Science Institute and also the University of Delft. Digital Delta will explore how to integrate and analyze water data from a broad array of existing data sources, such as water level and water quality monitors, precipitation measurements, levee sensors, radar data, model predictions together with current and historic maintenance data from sluices, pumping stations, locks and dams.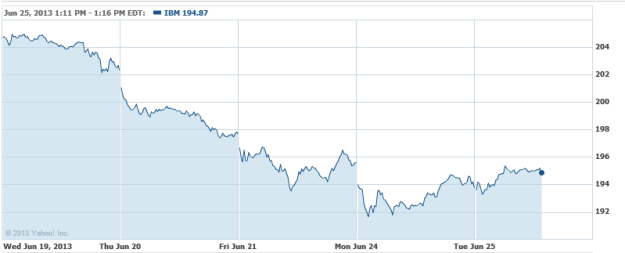 Don't Miss: Can Intel Land This Big Contract With Apple?