Exxon Mobil Sued For Arkansas Spill and 2 Other Dow Movers to Watch
Exxon Mobil Corporation (NYSE:XOM): Current price $92.35
Some two months following the rupture of a pipeline that spilled thousands of barrels of oil in the central Arkansas city of Mayflower, a number of residents and property owners are suing ExxonMobil Pipeline Company. Lawyers representing residents and property owners filed the lawsuit in Faulkner County on Tuesday, seeking damages after the Exxon Mobil Corp. division's Pegasus pipeline ruptured on March 29 and spilled oil in the town. On Wednesday, Shawn Daniels, who is one of the lawyers for the residents and property owners, said that he did not yet  have an estimate of how much money his clients are requesting.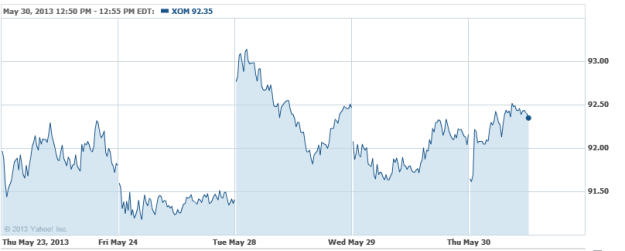 McDonald's Corporation (NYSE:MCD): Current price $97.63
Speaking at an analyst conference this week, Chief Executive Don Thompson said that he lost about 20 pounds in the past year by getting his "butt up" and "working out again." However, he also said that he has not altered his habit of eating at McDonald's "every, single day." Thompson was responding to a question regarding how the fast food giant is adapting to increasing worries about obesity, and said that he lost the weight by getting active again. The remarks come as fast-food chains and packaged food firms are being bashed for making products that drive obesity rates.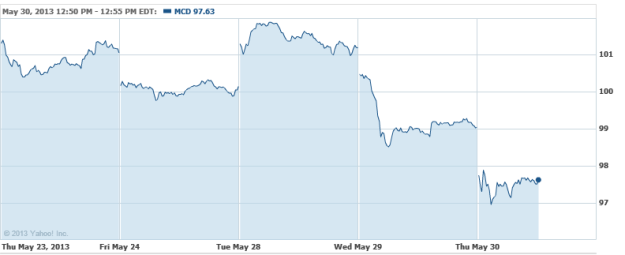 General Electric Company (NYSE:GE): Current price $23.67
On Thursday, GE Healthcare reported that results from three company studies employing DaTsca (Ioflupane I 123 Injection) in Parkinsonian Syndromes or the investigational imaging agent flutemetamol will be presented at the 2013 Annual Meeting of the Society of Nuclear Medicine and Molecular Imaging 2013 in Vancouver from June 8-11. In addition, GE Healthcare will be showcasing its newest patient-focused solutions, including its new hybrid imaging scanner that balances low dose radiation capabilities with high image quality.

Don't Miss: Will Exxon, Chevron Yield to Fracking Pressure?