Exxon Seeks Permission to Export From British Columbia and 2 Other Dow Movers to Watch
Exxon Mobil Corporation (NYSE:XOM): Current price $89.05
The energy giant has requested permission from the Canadian government to export 30 million metric tons of liquefied natural gas per year from British Columbia. Exxon is exploring potential construction sites for an LNG plant that would include six processing facilities in the Kitimat and Prince Rupert areas, according to an export-license application filed with Canada's National Energy Board on Wednesday, which indicated that exports would commence between 2021 and 2023. Lately, Exxon has been expanding its LNG portfolio on a global basis, with investments from Qatar to Australia, while orders accumulate from Asian economies in which domestic gas is non-existent or too scarce to satisfy demand. In May, the firm entered into negotiations with InterOil Corp. in order to develop gas discoveries in Papua New Guinea which could be routed to a $19-billion LNG complex Exxon that is constructing on its coast.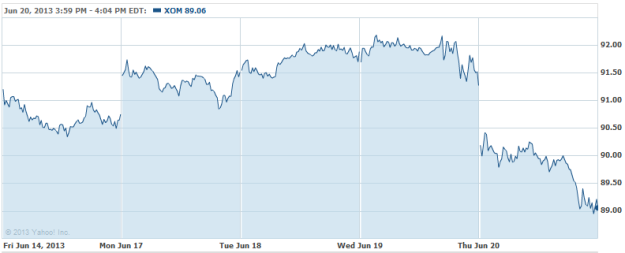 Hewlett-Packard Co. (NYSE:HPQ): Current price $24.72
On Thursday, shares were upgraded from Market Perform to Outperform at Wells Fargo, which also upped its price target, anticipating that HP will move towards divestitures and thus gain more traction with its product debuts. The analysts at now expect shares to reach a range between $30 and $32, up from $23 to $25. Writing in a research note to clients, analysts acknowledged that the firm is not "out of the woods" yet, due to the need to boost new products and improve sales  efficiency, but they did say that "the risk/reward is favorable" given initial interest in new products.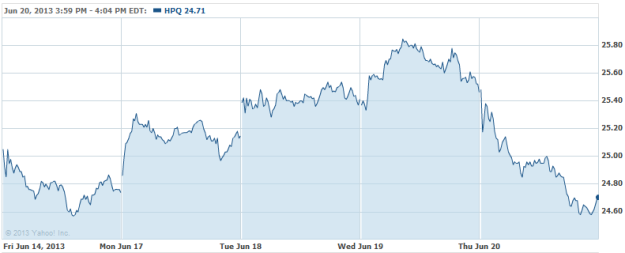 The Walt Disney Company (NYSE:DIS): Current price $61.98
Goldman Sachs took Disney off its "conviction buy" list on Thursday, pointing a run-up in the shares since early in 2012, increasing sports rights costs, and new rivalry from News Corp.'s upcoming sports channel, Fox Sports 1. The analyst Drew Borst kept his target price of $70 for the coming 12 months, but downgraded his rating to Neutral. Disney's ESPN sports network, which comprises roughly 45 percent of its operating income, will likely see decreased profit margins beginning in 2014, because of renewed rights arrangements for pro football, baseball and college sports, said Borst.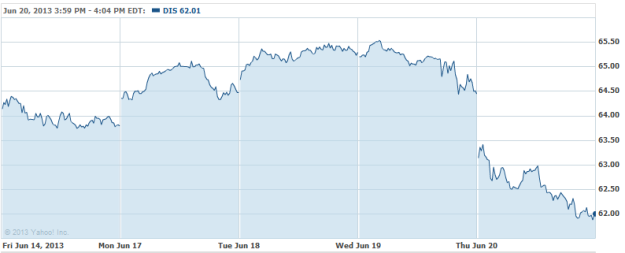 Don't Miss: Has U.S. Manufacturing Entered the Dog Days?