Exxon's Margins Tumble, Time Warner Cable's Mixed Quarter, and 3 More Hot Stocks
Exxon Mobil Corp. (NYSE:XOM): Exxon shares are up marginally as the company reported earnings per share of $1.79, beating estimates by 1 cent. However, that's a 18 percent decline year-over-year, as weaker margins, mainly in refining, hurt results. Revenues weighed in at $112.37 billion, coming in ahead of estimates calling for $106 billion; upstream operations rose 12 percent, while downstream ops sank 81 percent. U.S. refining profit margins fell 43 percent to an average of $17.54 per barrel during the quarter, the first time the average quarterly spread fell below $20 for Exxon since late 2010.

Time Warner Cable Inc. (NYSE:TWC): Time Warner Cable has reported EPS of $1.69, surpassing projections by 3 cents, though $5.51 billion in revenue came up $0.03 billion shy. Shares are up despite losing 304,000 video customers in the third quarter after analysts expected a drop of around 182,000; the CBS blackout likely played a role. However, a gain in business services revenue help push Time Warner's total revenue over last year; high-speed data rose 14.2 percent to $1.46 billion, video slid 4.5 percent to $2.6 billion, and other (regional sports distribution) dropped 6 percent, to $498 million.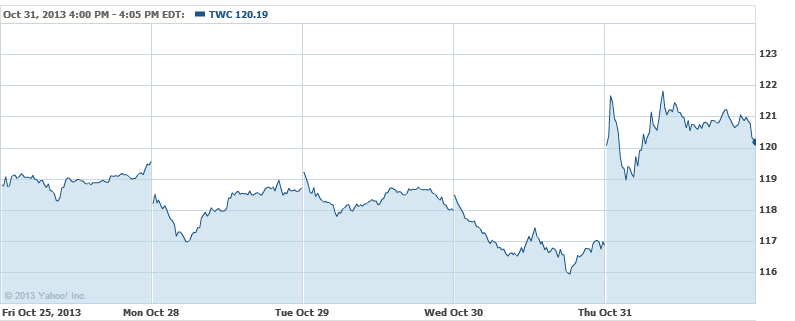 Teva Pharmaceutical Industries Ltd. (NYSE:TEVA): Shares are dipping slightly as Teva reported EPS of $1.27, beating by 1 cent, and revenue of $5.1 billion also beat, $0.1 billion. The U.S. saw a 4 percent gain and Europe also saw a 4 percent increase, though ROW saw a plunge of 8 percent. With the exception of Provigil, nearly every Teva drug saw some quality gains: Azilect grew 21 percent, Nuvigil fell 7 percent, Provigil tanked 58 percent, Treanda grew 15 percent, ProAir went up 3 percent, Qvar gained 11 percent, and women's health surged 11 percent.

AstraZeneca Group (NYSE:AZN): AstraZeneca has reportedly received a civil demand from the U.S. Department of Justice, which is investigating a major clinical trial that was used to win marketing approval for its new heart drug, Brilinta. Aside from noting that it plans to fully cooperate with the probe, AstraZeneca didn't provide any further details regarding the investigation. The news comes as the British drug giant announced its quarterly results, which saw core operating profit fall 31 percent to $2.03 billion, with the associated EPS falling 28 percent to $1.21, missing the consensus of $1.27.

Discovery Communications (NASDAQ:DSCA): Discovery Communications has reported EPS of 80 cents, besting projections by 8 cents, as revenue of $1.37 billion missed by $0.02 billion (although it grew 28 percent over the same period of 2012). The company bought back 6 million shares of common stock for a total of $448 million; revenue from international networks saw growth of 59 percent, while the U.S. networks saw gains of 10 percent.

Don't Miss: Exxon Mobil Is Feeling the Pressure of High Drilling Costs.