Exxon's Pegasus Restrictions Continue and 2 Other Dow Movers to Watch
Exxon Mobil Corporation (NYSE:XOM): Current price $90.70
A filing from federal regulators indicates that the restrictions on Exxon Mobil's Pegasus crude oil pipeline, which has been shut since March 29 following a spill, remain in place after the firm requested changes in a hearing held on May 2. Exxon advised the United States Pipeline and Hazardous Materials Safety Administration that a 211-mile southern section of the pipeline posed less risk since it was constructed more recently than the northern portion that spilled some 5,000 barrels of oil near Mayflower, Arkansas. However, the regulators noted at the hearing that the newer section, constructed in 1954, had a seam failure during a prior hydrostatic test.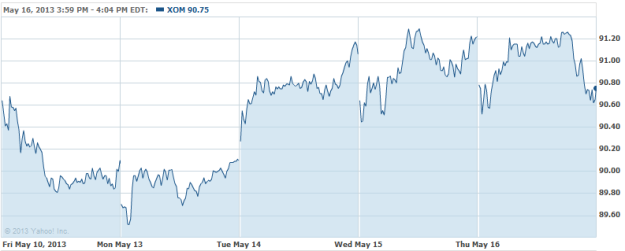 Wal-Mart Stores (NYSE:WMT): Current price $78.50
Asda, the United Kingdom's grocer (and a Wal-Mart arm), reported that it would not participate in the profit-squeezing promotions throughout the industry, because it posted an uptick in first-quarter sales. On Thursday, Chief Executive Andy Clarke remarked to reporters that "we're not being distracted by gimmicks happening around the market. Vouchering is unsustainable in our view." Even though they currently concentrate upon staples, Britain's supermarkets have not been safe from the economic downturn and are fighting for market share.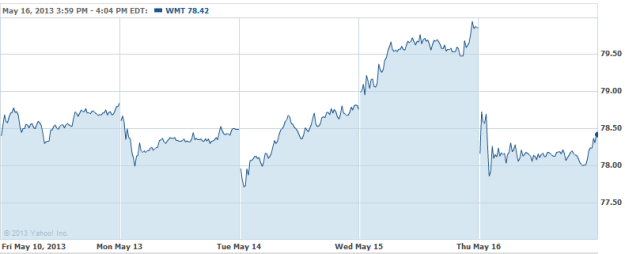 McDonald's Corporation (NYSE:MCD): Current price $101.12
The fast-food megalith intends to hire 75,000 new employees in China in 2013, as it ramps up store expansion in that country. The new hiring marks a jump of as much as 83 percent of its workforce in China; presently McDonald's has over 90,000 employees in China, according to an e-mailed statement on Thursday. Restaurant chains like McDonald's and Burger King Worldwide are speeding up store openings there, as rising incomes and busy lifestyles spur demand for fast meals in the second biggest economy on earth.

Don't Miss: Can Wal-Mart's Solo Bangladesh Plan Be Effective?