Facebook Advises Brazilian Politicians on Social Media and 2 More Heavily Traded Stocks to Follow
Facebook Inc. (NASDAQ:FB): Current price $52.10
Brazil may be considering the imposition of strict new regulations on American Internet firms, but Facebook is being proactive by offering free advice to some of the country's top politicians this week on how to win "friends" and maximize "likes" on their webpages. The tips on using social media coincided with politicians getting ready for a 2014 general election, and as Brazil's Congress prepared to vote on legislation that could severely limit the manner in which some firms like Facebook, Twitter, and Google operate there. Following revelations of the United States government spying on Brazilian citizens and companies, including President Dilma Rousseff, the country is rushing through legislation that would oblige Internet firms to store data about their Brazilian users in the country.
Cisco Systems Inc. (NASDAQ:CSCO): Current price $22.41
On Friday, KBZ, a Cisco Authorized Distributor specializing in Collaboration, Unified Communications and TelePresence solutions, said that it will be the first to distribute the iRobot Ava 500 video collaboration robot in the United States. iRobot Ava 500 integrates iRobot's autonomous robotic mobility platform with the Cisco TelePresence EX Series personal system to deliver a new level of collaboration for office environments and other facilities. The robot permits those working off-site to more personally participate within highly collaborative teams and enables a mobile presence to areas like laboratories, manufacturing facilities, customer experience centers, and other remote facilities in a supply chain.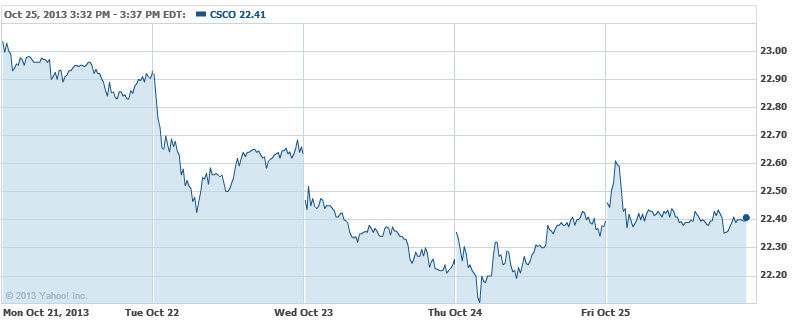 Intel Corp. (NASDAQ:INTC): Current price $24.17
Intel President Renee James says that her company's failure to enter the mobile-phone business should be attributed to a lack of prioritization instead of an inability to make and sell the chips, remarking that, "There's a difference between not being capable of it, and not doing it," in an interview on Friday at Bloomberg's New York headquarters. The firm has been struggling to become current in the wireless market, while consumers transition away from laptops and desktops to smartphones and tablets to check e-mail, browse the Web and access entertainment. Analyst Patrick Wang at Evercore Partners Inc. says that, "Investors have been let down by Intel's lack of progress in mobile and need to see concrete results."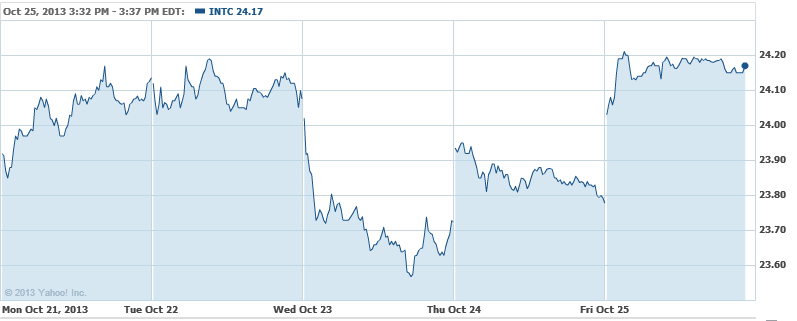 Don't Miss: Zynga Struggles On: Analysts Pleasantly Surprised.