Facebook Affected by Botnet and 4 Social Media Stocks Seeing Action
Facebook, Inc. (NASDAQ:FB):  Current price $31.17
ESET Security Research Lab reported that the PokerAgent botnet has stolen over 16,194 Facebook log-in credentials. The botnet was designed to also collect information on credit cards linked to the Facebook accounts and Zynga Poker (NASDAQ:ZNGA) player stats, according to ESET.

Groupon, Inc. (NASDAQ:GRPN):  Current price $5.17
Edo Interactive Inc., a tech startup that marries bank cards and discounts, is moving in on Groupon, Google, and other companies doing online local deals. Edo plans, this week, to start offering local merchants their service, allowing a retailer to target potential customers based on their spending history. Previously, the company was focused on large national retailers.

Are these stocks a buy or sell? Let us help you decide. Check out our Stock Picker Newsletter now.
Pandora Media, Inc. (NYSE:P): Current price $11.48
After Wedbush analyst Michael Pachter cut his rating on the stock from Outperform to Neutral, mostly on a valuation basis, Pandora Media, Inc. shares are coming under selling pressure.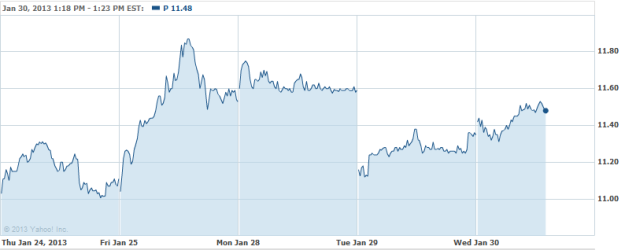 Zynga, Inc. (NASDAQ:ZNGA):  Current price $2.58
Zynga, Inc., has lost a top developer. Chief game designer Brian Reynolds has left the social game company. This was announced on Twitter. Reynolds had spent nearly four years with the San Francisco, California-based FarmVille developer.

Yelp, Inc. (NYSE:YELP):  Current price $20.73
Yelp, Inc. is pushing back against claims by small businesses that that they are engaging in deceptive and harmful practices against companies that refuse to advertise with them, saying that the allegations are "demonstrably false."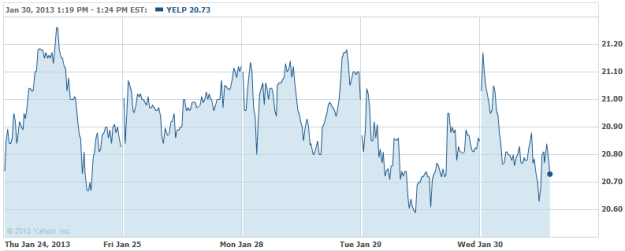 Don't Miss: Will Amazon Keep Growing?