Facebook Asks to Air NSA PRISM Requests and 2 Other Hot Stocks to Watch
Facebook (NASDAQ:FB): Current price $23.85
Perhaps making proactive moves, Facebook, Google, and Microsoft Corporation on Tuesday asked the United States government for permission to reveal details in regards to the classified requests they receive for personal information about foreign users, according to Claire Cain Miller in The New York Times. Their request follows revelations concerning PRISM, the National Security Agency's secret Internet surveillance program, for amassing data from tech firms such as email messages, stored documents, photographs, videos and online chats. Collecting the data is legally authorized by the Foreign Intelligence Surveillance Act, which disallows companies from acknowledging the existence of such requests or revealing any details about them. Just as the other tech giants did, Facebook said that it wanted to be able to publish information on the magnitude and scope of the government requests.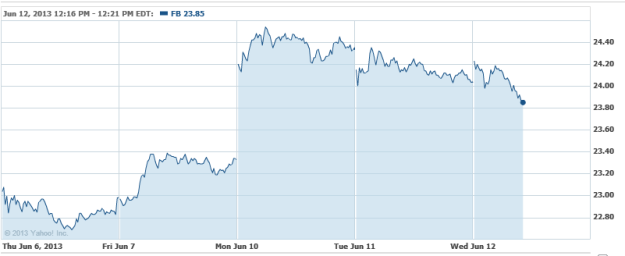 Spectra Energy Corp. (NYSE:SE): Current price $33.33
Spectra Energy shares are up nearly 10 percent in late morning trading Wednesday, after Tuesday's announcement of its intention to drop down the entirety of its remaining U.S. Transmission and Storage assets to Spectra Energy Partners by the end of 2013, subject to market conditions. Management intends to supply added details concerning this transaction in its second quarter earnings call set for August 6.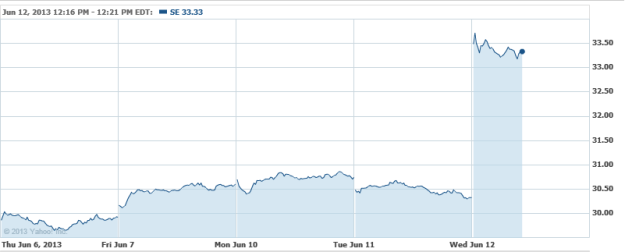 Gigamon (NASDAQ:GIMO): Current price $
The maker of data traffic management software saw its shares jump as much as 37 percent in their market debut, reinforcing investor confidence in enterprise software start-ups. Gigamon, valued at roughly $680 million at the opening price, raised approximately $85.5 million following its pricing the offering of 6.75 million shares at $19 apiece, which is the midpoint of the expected range. Gigamon itself sold 4.5 million shares in the offering, and shareholders sold the remainder.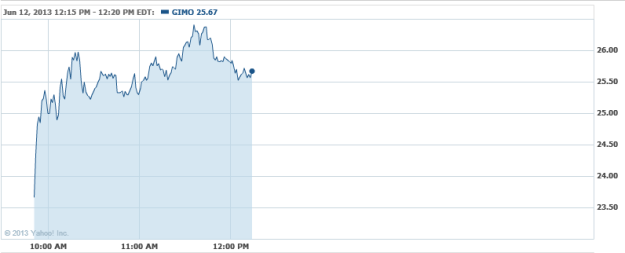 Don't Miss: Will Facebook Shareholders Take Solace in Zuckerberg's Confidence?