Facebook Bans Advertising 'Arbitrage' via Policy Change and 2 Other Hot Stocks to Watch
Facebook (NASDAQ:FB): Current price $25.56
Facebook has changed its policies to disallow media buyers from overcharging for Facebook ads through buying ad inventory inexpensively and then selling it to clients with a markup. The practice is controversial in the adtech world, where the pricing process is often unclear and agencies frequently accuse each other of improprieties with client money. That market is not what economists call perfect competition: Many clients do not have basic information on how online ad inventory is generated and sold. Citibank, Unilever, Procter & Gamble, Ford, Kimberly-Clark, and AT&T have all held back ad money from online ad agency trading desks because those agencies could not explain how their funds were actually being spent. Facebook's new policy, which is quite clear, says, "You must not sell ads on a fixed CPM or CPC basis when using the Facebook advertising auction without our prior permission."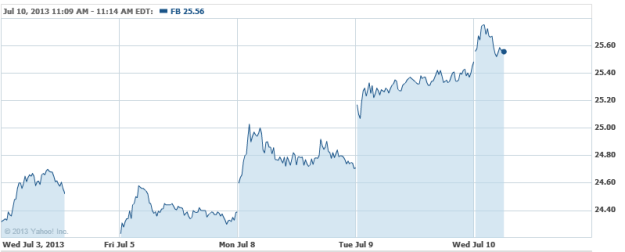 Inovio Pharmaceuticals Inc. (NYSE: INO): Current price $1.43
Inovio announced on Tuesday the peer-reviewed publication of results from two Phase I trials (HVTN 070 and HVTN 080) of its Pennvax-B preventive HIV DNA vaccine delivered with a DNA adjuvant, and with or without Inovio's proprietary Cellectra electroporation delivery device. The studies were run by the HIV Vaccine Trials Network. Inovio's HIV DNA vaccine, used together with the Cellectra device, significantly increased the number of responders producing robust and durable CD4 and CD8 T-cell responses in humans.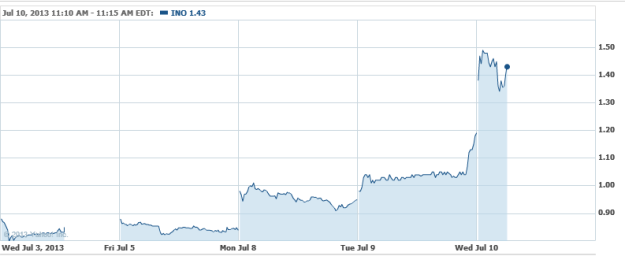 Hewlett-Packard Co. (NYSE:HPQ): Current price $25.83
Shares of Hewlett-Packard were up more than 2 percent Wednesday morning after analyst Jim Suva at Citi took them from Sell to Buy and hiked his price target to $32. Citi points to its recent CIO survey as one reason for the upgrade. Citi said the survey indicated a "material positive inflection" point for Hewlett-Packard services. The ratings firm also cited the tech company's cost-cutting endeavors, as it slashed its workforce by 10 percent, saying that the market could be lowballing the financial benefits the streamlining will bring in the second half, as well as in 2014 and 2015.