Facebook Boosted by Mobile Ads and 4 Social Media Stocks Seeing Action
Facebook, Inc. (NASDAQ:FB): Current price $31.30
Facebook, Inc. is spending more, but also making more. Advertising revenue from mobile apps surged as Facebook sales rose 40% during the latest quarter.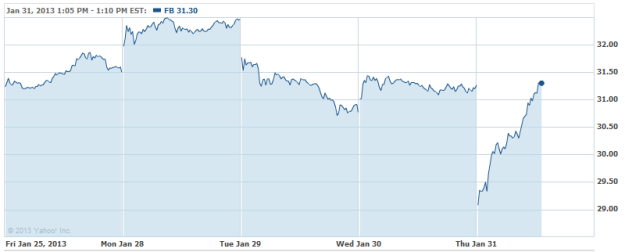 LinkedIn Corporation (NYSE:LNKD):  Current price $124.18
LinkedIn Corporation may be more effective as a tool for business than one of the largest social media tools out there, namely Twitter. According to a recent survey conducted by the Wall Street Journal which took into account the opinion of 835 small business owners, 41% said LinkedIn could benefit their company in a positive way.

Groupon, Inc. (NASDAQ:GRPN): Current price $5.36
According to a securities filing, Groupon, Inc., doled out almost 3.4 million in shares of restricted stock to four senior leaders, compared with 1.5 million shares in 2011 when they went public. Unfortunately, the stock is down almost 75% since then.

Pandora Media, Inc. (NYSE:P): Current price $11.59
After an analyst downgrade, Pandora  Media, Inc.'s shares slipped 2% yesterday. Wedbush Securities' Michael Pachter may have bumped his target price from $10 to $11.50, but that is not a compliment when the stock closed higher than that on Monday. His rating on the music-discovery speedster has been cut from outperform to neutral.

Zynga, Inc. (NASDAQ:ZNGA): Current price $2.65
Zynga, Inc. will report their fourth quarter earnings on Feb. 5 after the bell.

Don't Miss: Facebook: Still Expanding its Message Around the World.
http://www.cheatsheet.com/stocks/i-love-you-altria-group.html/