Facebook Briefly Kills the Internet and 4 Social Media Stocks Seeing Action
Facebook, Inc. (NASDAQ:FB): Current Price: $28.90
On Thursday, for a few minutes, Facebook was redirecting users visiting dozens of websites like Mashable and CNN to cryptic error pages. This resulted in the expected hashtags like "Facebookmageddon" and "Facebocalypse," which are common among Twitter users. The only problem was an issue with the Facebook Connect API causing users on sites using API to redirect users to a Facebook error page.

LinkedIn Corporation (NYSE:LNKD): Current Price: $150.99
Yesterday, the company reported stronger than expected Q4 results and its 2013 revenue guidance was in-line with expectations. LinkedIn's revenue from its Talent Solutions, used by hiring managers and recruiters, saw a boost of 90 percent last quarter, compared to the same period during 2011. Its premium subscription revenue saw a 79 percent hike during the same period. Earlier, in a note to investors, Piper Jaffray analyst Gene Munster increased his price target on the shares to $176 from $150 because of the company's results.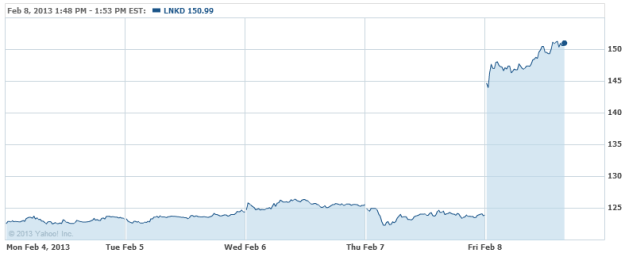 Pandora Media, Inc. (NYSE:P): Current Price: $11.63
Listener hours in January were able to reach 1.39 billion, a 47 percent rise from 952 million during the same period the previous year, but active listeners fell to 65.6 million from 67.1 during the previous month. Currently, Pandora's share of total U.S. radio listening is at 8.03 percent versus 5.55 percent last year.

Zynga, Inc. (NASDAQ:ZNGA): Current Price: $3.47
Director Brett Ratner is to produce a half-hour animated television series that is based on Zynga's"Farmville," the Wall Street Journal reports.

Yelp, Inc. (NYSE:YELP): Current Price: $22.46
For the current quarter, Yelp believes that revenue will be in the range of $44 million to $44.5 million, which is much higher than the average analyst expectation of $43.8 million.

Don't Miss: LNKD Charts: Still in the Winner's Circle on Wall Street.