Facebook Causes Confusion With Gift Card and 4 Social Media Stocks Seeing Action
Facebook, Inc. (NASDAQ:FB): Current Price: $30.23
Facebook has rolled out "The Facebook Card," which is a complicated gift card that users are able to send to friends through Facebook's online store, Facebook Gifts. Facebook doesn't find the concept difficult as the social network gets earns a good chunk of change when selling its own gift card through its own online store, but consumers find the Facebook card confusing. The Facebook Card is purchased in the Facebook Gift shop, but users are unable to use the card in that same gift shop, so the gift recipient gets a card that says "Facebook" that isn't able to be spent on Facebook. The card can be used at various retailers, similarly to a pre-paid Visa card, but unlike a pre-paid Visa, users have to specify when loading the card the amount of money that is allocated to each retailer. The card must be managed through an app, but the app can't be used as a payment system.

LinkedIn Corporation (NYSE:LNKD): Current Price: $124.50
The company will likely report FY 2012 Q4 EPS of 19 cents on revenue of $279.5 million, versus a profit of 12 cents a share on revenue of $167.74 million during the same price the previous year. The analysts' consensus full-year forecast has called 72 cents per share earnings on revenue of $948.56 million.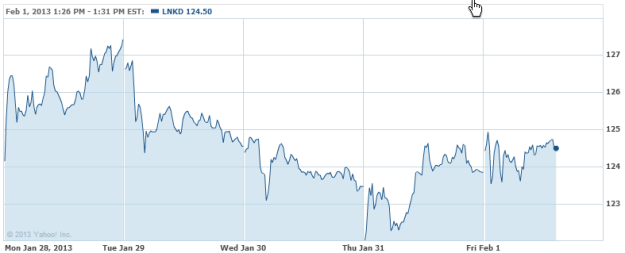 Are these stocks a buy or sell? Let us help you decide. Check out our Stock Picker Newsletter now.
Groupon, Inc. (NASDAQ:GRPN): Current Price: $5.67
When it was time for VC firm Lightbank to open its first office outside of Chicago, its partners, which includes Groupon founders Brad Keywell and Eric Lefkofsky, looked east to New York City instead of Silicon Valley. Today, the venture capital firm is officially announcing that it will open its second office which is located in NYC's Flatiron District.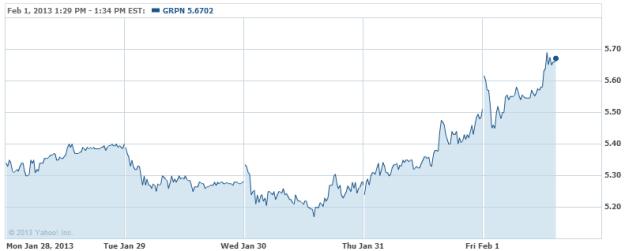 Zynga, Inc. (NASDAQ:ZNGA): Current Price: $2.66
Zynga options contracts saw a new 90-day record for its call contracts. A total of 23,443 call contracts were traded in the busy trading session and the contract spread yielded a 0.33 put/call ratio where 3.0 call contracts were traded for each put contract.

Yelp, Inc. (NYSE:YELP): Current Price: $21.08
Yelp for Android's built-in mapping feature has been outdated, but now, there has been an upgrade in the Google Play Store which updated the app's integration to use Google Maps v2. This brings the vector-based mapping in Google Maps to the exploration listings, allowing the users to use the map view using the 3D topography feature.

Don't Miss: Facebook: Still Expanding its Message Around the World.