Facebook Celebrates IPO Anniversary and 2 Other Hot Stocks to Watch
Facebook (NASDAQ:FB): Current price $26.40
In early trading on Friday, tech stocks were dominant, with Facebook shares helping the advance. The stocks moved up at one point by 1.2 percent to $26.46 on what was in effect the anniversary of the company's now-famous IPO on May 18, 2012, when it went public at $38 a share.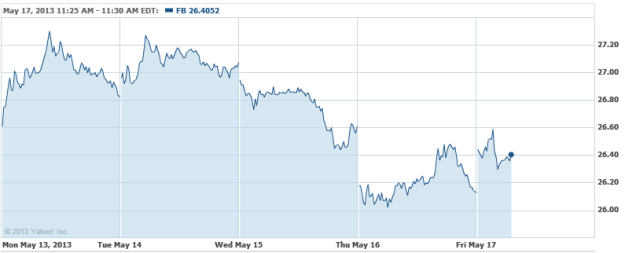 Aruba Networks (NASDAQ:ARUN): Current price $12.96
Aruba shares plummeted by around 28 percent in Friday morning trading at ten-month lows, after the firm's fiscal third quarter results were posted late Thursday, which missed already lowered expectations. The company said that earnings per share minus items for the fiscal quarter ended April 30 slid by 8 percent to 11 cents, missing estimates by one cent. Sales gained 12 percent to $147.1 million, in line with estimates. Guidance for Aruba's fiscal fourth quarter for earnings of around 11 cents and revenue of $149 million were below expectations of 17 cents and revenue of $157.1 million. Aruba had warned on May 7 that third quarter sales and earnings would come in under consensus estimates, as reported by IBD.

Applied Materials  (NASDAQ: AMAT): Current price $14.82
The company has released its second quarter results. Net sales were just under $2 billion, which was down from the $2.5 billion year-over-year from 2012. During the same period, Applied Materials moved to a bottom-line loss, recording a shortfall of $129 million, or 11 cents per diluted share, in the most recent quarter, compared again year-over-year to a profit of $289 million, or 22 cents, but on a non-GAAP basis, both figures were in the black. The 2013 second quarter net stood at a profit of $199 million, or 16 cents per diluted share, while the same number for 2012 was $349 million, or 27 cents. Applied Materials also gave its guidance for its current third, in which it believes that its net sales will "be up slightly" from the second quarter, with non-GAAP adjusted earnings per share at between 16 and 20 cents.

Investing Insights: Is Groupon On the Road to Recovery?