Facebook Drives Nasdaq Up, Amazon Disappoints Investors: Market Recap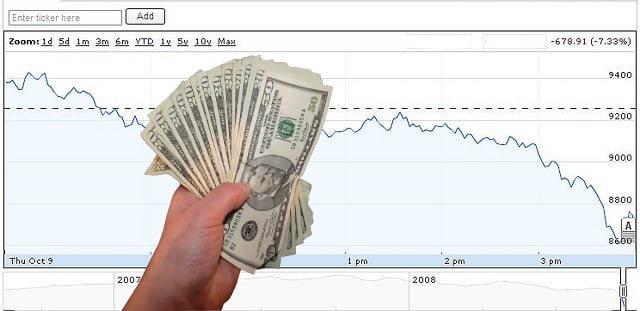 U.S. stocks rose on Thursday, with the Nasdaq being bolstered by strong earnings from Facebook (NASDAQ:FB). The Dow and S&P 500 showed more modest gains, reflecting a mixed bag of earnings for those indexes. Investors are continuing to look for clues as to when the Federal Reserve will feel the economy has improved enough to justify ending stimulus.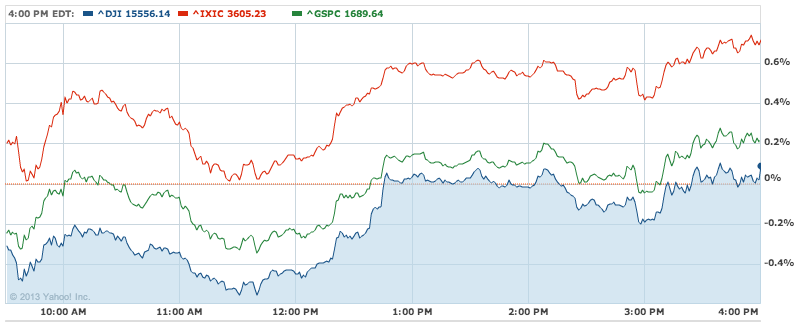 Gold: +0.86% to $1,330.80 per ounce  Oil: +0.08% to $107.00 per barrel  U.S. 10-Year: +0.73 to 2.607%
U.S. Labor Market: Still Resilient with These Jobless Numbers: America's job market has been seen as resilient so far this year, adding jobs despite January's tax increases and March's federal spending cuts, two events that appeared to weigh down economic growth in the first six months of 2013… (Read more.)
Manufacturing Sector to Economy: It's Getting Better: Total new orders for manufactured goods increased 4.2 percent on the month in June to $244.5 billion, according to an advance report from the U.S. Census Bureau. This follows and upwardly revised increase of 5.2 percent in May (previously 3.6), and beat expectations for an increase of 1.5 percent… (Read more.)
Natural Gas Prices: Under the Sway of High Temps and High Production: When running for president in 2008, Barack Obama pledged to make climate change a top priority. It is true that he has achieved some very real accomplishments in supporting renewable energy and efficiency. Yet, the Obama administration is now mired in a controversy over whether the United States should pursue a policy conducive to natural gas exports… (Read more.)
Here's your cheat sheet to today's top stocks stories:
CBS Corp. (NYSE:CBS) threatened to pull programming from Time Warner Cable (NYSE:TWC) last week, but the two companies have come to a short-term contract extension so that Time Warner customers won't lose access to CBS on Wednesday night, when the current agreement was set to end… (Read more.)
Facebook (NASDAQ:FB) reported second-quarter earnings on Wednesday that smashed expectations and swept away many longstanding concerns that investors had about the company. Revenue increased 53.1 percent on the year to $1.8 billion, beating the average analyst estimate of $1.62 billion… (Read more.)
Amazon (NASDAQ:AMZN) reported second-quarter financial results after the bell on Thursday that came in below expectations. Net sales increased 22 percent on the year to $15.70 billion, just shy of the average analyst estimate of $15.73 billion. The big whiff was earnings, which fell to a loss of 2 cents per share against expectations for a gain of 5 centers per share… (Read more.)
Dell (NASDAQ:DELL) shareholders may not find Michael Dell's buyout price of $13.65 attractive — a fear that prompted the first delay of the shareholder vote scheduled for July 18 — but Mr. Dell and his financial backer, Silver Lake, sweetened their offer by a dime, pushed back the vote yet again, and asked for a rule change that might just give the buyout group an advantage over the growing opposition led by shareholder Carl Icahn… (Read more.)
General Motors (NYSE:GM) posted earnings today, beating analyst expectations for both earnings and revenue, showing that the formerly struggling auto-maker my be back on its feet. Adjusted earnings per share decreased 6.67% to 84 cents in the quarter versus EPS of 90 cents in the year-earlier quarter, topping estimates of 75 cents. Revenue grew 3.95 percent to $3.91 billion, beating estimates of $38.37 billion.
CROCS Inc. (NASDAQ:CROX) also posted earnings today, falling far short of analyst expectations and causing shares to dive. Earnings per share fell 29.41 percent to 48 cents. Analysts had expected the figure to be around 64 cents. Revenue rose 9.93 percent to $363.8 million, missing analyst estimates of $365 million.
Follow Jacqueline on Twitter @Jacqui_WSCS