Facebook Hits $50, Nokia's Unsure About Its Future: Market Recap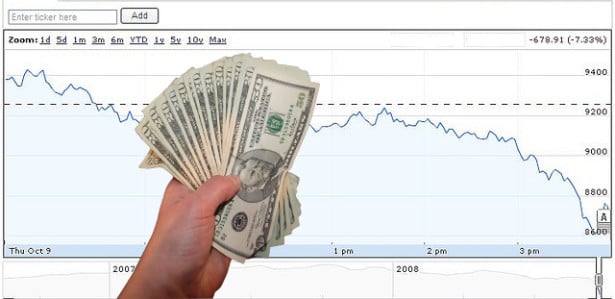 U.S. stocks rose on Thursday, breaking a five-day slump on news that jobless claims unexpectedly dropped in August. A Commerce Department report also showed that the GDP expanded at a faster rate in the second quarter than in the first. This positive economic data outweighed ongoing concern that lawmakers won't be able to reach an agreement on the budget before a government shutdown.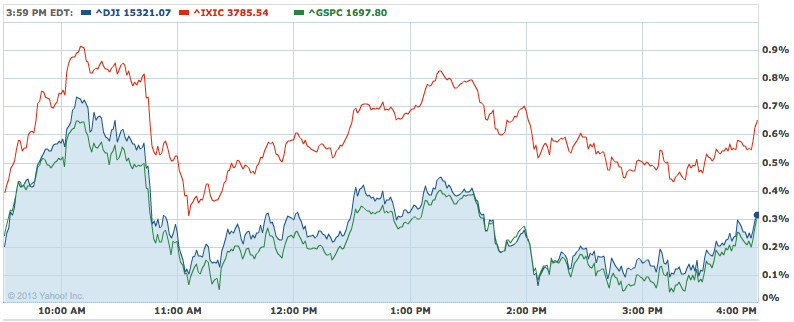 Gold: -0.90% to $1,324.20 per ounce Oil: +0.32% to $102.99 per barrel U.S. 10-Year: +1.11 to 2.643%
Is Manufacturing a Drag on Economic Growth?: Manufacturing growth continued to decelerate in September, according to the flash reading of Markit's U.S. Manufacturing Purchasing Managers' Index. The PMI decreased for the second consecutive month from 53.1 in August to 52.8 in September, its slowest rate since April.
Here's Why Unemployment Is Still at Unacceptable Levels: The reason the unemployment rate fell to 7.3 percent in August was not because the ranks of the unemployed were significantly reduced, but because of the number of job hunters that dropped out of the workforce. In fact, this year, the unemployment rate has dropped from 7.9 percent to 7.3 percent while the overall level of employment has remained flat because so many people have dropped out of the workforce.
No Surprise: Revised Q2 GDP Shows Same Slow Growth: The U.S. Department of Commerce's third estimate of second-quarter gross domestic product leaves the picture of United States economic growth from April to June much the same: better than the first quarter, but still far too slow. Economists had expected this second revision would boost the second-quarter growth pace to 2.8 percent from 2.5 percent.
Here's your cheat sheet to today's top stocks stories:
Nokia Corp. (NYSE:NOK) is reportedly considering a tie-up with French wireless company Alcatel-Lucent (NYSE:ALU) as Nokia weighs its options in the wake of having sold its devices and services unit to Microsoft (NASDAQ:MSFT). People familiar with the matter told Reuters that no formal talks are underway, and that Nokia is considering various options as to how it should grow its wireless business now that its handset division is gone.
BlackBerry (NASDAQ:BBRY) shares fell during Wednesday trading on uncertainty that BlackBerry's buyout by Fairfax Financial Holdings would go through, and now, T-Mobile US (NYSE:TMUS) has announced that it will no longer carry BlackBerry devices in its stores.
EBay's (NASDAQ:EBAY) PayPal arm will be purchasing fellow payment-processor system Braintree for $800 million, in cash. Braintree will continue to operate as a separate service than eBay's PayPal, remaining under the leadership of current CEO Bill Ready, while Braintree's Venmo social sharing-focused mobile payments app will be integrated with PayPal's mobile payments offerings. EBay expects the acquisition to be immaterial to its 2013 revenue guidance, and to dilute 2013 EPS by a penny.
Facebook Inc. (NASDAQ:FB) had a story to "Like" Thursday after its stock surged, topping $50 per share for the first time thanks to increased confidence from Goldman Sachs (NYSE:GS). MarketWatch reports that the firm upped its price target from $52 to $58 and cited Facebook's presentation at AdWeek 2013 in New York for its newfound support. Analyst Heather Bellini explained in a note to investors, "Our conversations on the conference floor suggest continuing momentum for Facebook, and but also significant runway left."
Twitter's IPO is getting closer, and the social media star is prepping for the second-biggest event in the company's future — the 2014 Super Bowl. Twitter announced it has big plans in place with 21st Century Fox (NASDAQ:FOX), which will air the game, and plans to capitalize in every way possible on a Super Bowl expected to generate the most tweets ever for a single event.
Don't Miss: Facebook Touches $50.09 on Goldman PT Upgrade and 2 Other Hot Stocks to Watch
Follow Jacqueline on Twitter @Jacqui_WSCS