Facebook In Talks With Apple and Microsoft and 4 Other Hot Stocks
Facebook (NASDAQ:FB): The world's largest social media powerhouse is reportedly in talks with fellow computer giants Apple (NASDAQ:AAPL) and Microsoft (NASDAQ:MSFT) about the possibility of bringing Facebook Home to the Windows and iOS mobile platforms, Bloomberg said. "We've shown them what we've built and we're just in an ongoing conversation," Facebook's director of product Adam Mosseri said, referring to discussions with Apple and Microsoft. Unlike Google's (NASDAQ:GOOG) Android, which is open-source, Apple and Microsoft are far more wary of letting third parties play with the iOS or Windows user interfaces.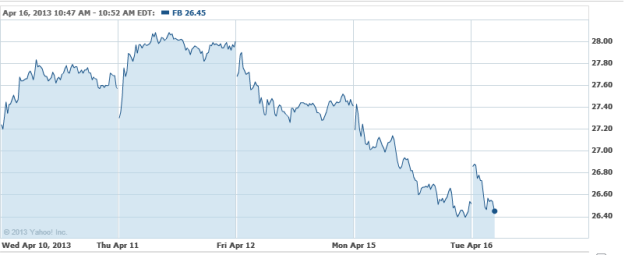 Duke Energy (NYSE:DUK): Duke has received a stock upgrade from RBC Capital, which cited several potential catalysts as basis for its decision to lift the rating from Sector Perform to Outperform, and raise its price target from $74 to $78. "In our view, Duke is a core holding for utility investors and deserves a premium valuation due to above average earnings growth, high yield, and stable, constructive regulatory environments," said RBC analyst Shelby Tucker. He added that the firm sees little downside, and positive regulatory changes in Indiana and South Carolina will help the company perform well.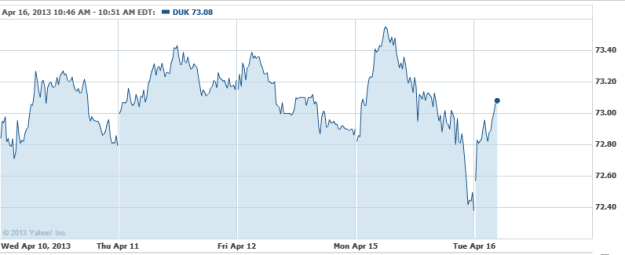 ConocoPhillips (NYSE:COP): Oil and gas minister Sauat Mynbayev of Kazakhstan has said that China is expressing interest in purchasing a stake of ConocoPhillips as a part of a multinational group leading the development of the Kashagan oilfields, though Kazakhstan has yet to make such a decision. Mynbayev acknowledged that it was a possibility, as the country has the pre-emptive right to buy out ConocoPhillips's 8.4 percent stake in the project. In efforts to slim down its international operations, the oil company has mentioned it plans to sell the stake to India's oil and Natural Gas Corp., which is state-run, for about $5 billion.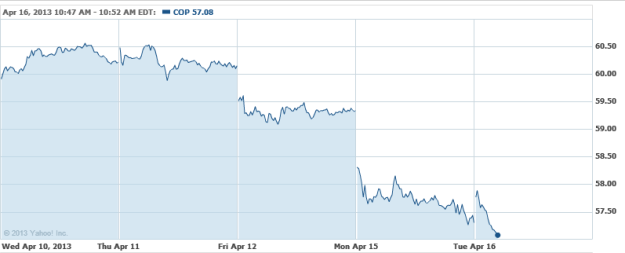 Coca-Cola (NYSE:KO): Coca-Cola has released its first-quarter results, and although revenue missed estimates by a narrow $0.01 billion, the company's comparable earnings per share of $0.46 beat estimates by $0.01. Overall volume growth was positive, with stronger growth reported in emerging markets that helped to offset more sluggish growth in other regions. Globally, volume growth was up a solid 4 percent.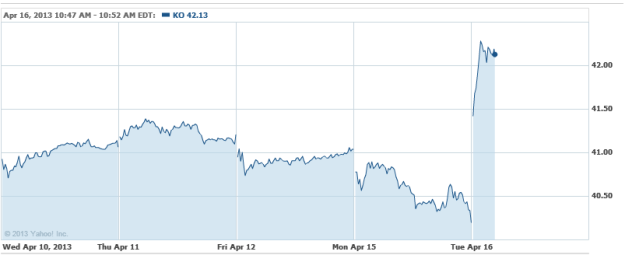 Serepta Therapeutic (NASDAQ:SRPT): A downgrade from Leerink Swan combined with a FDA request has put shares of Serepta into a nose dive, when the firm brought its rating from Outperform to Market Perform. Leerink cited the unexpected release of a Phase II data for drisapersen, a drug Serepta is developing to combat muscular dystrophy. The FDA has announced that it needs more data on the drug, which may mean running a Phase III pre-approval trial that would delay its release long enough to give GlaxoSmithKline's (NYSE:GSK) competing medication a first-to-market advantage.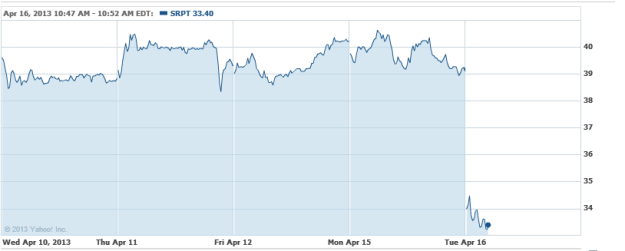 Don't Miss: Time to Get Bearish on the Tech Sector?