Facebook Launches Its Bullying Prevention Hub and 2 Heavily Traded Stocks to Follow
Facebook Inc. (NASDAQ:FB): Current price $47.54
NPR is reporting that Facebook has launched its "bullying prevention hub," meant to help teens cope with with online harassment. The hub was created to help teen victims, parents, and educators deal with bullying on Facebook, while at the same time offering suggestions for handling bullying both online and in real life. The hub comes after Facebook's social reporting endeavors two years ago that suggested language for users who wanted other Facebook users to take down a photo. Spokesman Matt Steinfeld told NPR, that, "We were pretty impressed when we rolled out social reporting a couple of years ago that people were willing to engage with each other, as long as we suggested some text to use."

Twitter Inc. (NYSE:TWTR): Current price $41.34
According to some Thomson Reuters data on Friday, Twitter's $1.8 billion share sale brings the aggregate proceeds attributed to new domestic share listings thus far in 2013 to $50.7 billion, making it the strongest year since 2000. Twitter's share price soared 73 percent in opening market trade on Thursday, pushing the firm's valuation to approximately $25 billion. The data also show that the amount raised by United States stock market flotations is up by 26 percent year-over-year, and that the number of offerings is the highest since 2004.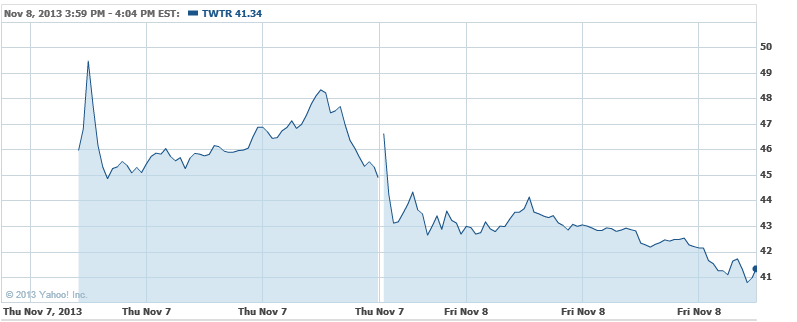 General Motors Co. (NYSE:GM): Current price $36.68
Cadillac's new marketing head has said that he intends to keep the brand's advertising agency, and center on building its image in the United States and in China. On November 5, GM appointed the former Bayerische Motoren Werke AG marketing executive Uwe Ellinghaus, to the new position of Cadillac chief marketing officer, which he will start on January 1. Ellinghaus commented that, "Cadillac is today probably an admired brand and also well-liked brand but not a particularly — as we marketeers call it — relevant brand. My biggest job is to explain to people why they should go for Cadillac, why it meets their daily requirements, why the expression of style is right for them."

Don't Miss: Facebook 'Like' Redesign: No More Love for the Thumbs-Up.