Facebook Makes Hashtags Clickable and 2 Other Hot Stocks to Watch
Facebook (NASDAQ:FB): Current price $23.40
Hashtags are now clickable on Facebook. As with other services such as Twitter, Instagram, Tumblr, or Pinterest, hashtags on Facebook permit users to add context to a post or show that it is part of a greater discussion. Clicking on a hashtag in Facebook, reveals a feed of what other people and Pages are saying about the matter. According to Facebook's blog, "Hashtags are just the first step to help people more easily discover what others are saying about a specific topic and participate in public conversations. We'll continue to roll out more features in the coming weeks and months, including trending hashtags and deeper insights, that help people discover more of the world's conversations."

Safeway (NYSE:SWY): Current price $25
As expected, Safeway accepted an unsolicited $5.8-billion Canadian dollar bid from Sobeys for its Canadian businesses. The supermarket chain owns 213 grocery stores, 10 liquor stores, 62 fuel stations, 12 manufacturing facilities, and four distributions centers, located primarily in western Canada. The divestiture lets Safeway concentrate more on its United States operations, and permits Sobeys to expand its presence across Canada. Sobeys is a business division of Empire Company, which is the second largest grocery operator in the country.

William Companies (NYSE:WMB): Current price $33.55
Early Thursday, a large explosion and fire struck the Williams Olefins chemical plant in Geismar, Louisiana, causing at least some injuries. A local fire department reported that it was treating several persons injured in the blast, which happened at a plant along the Mississippi River south of Baton Rouge. WAFB television in the capital reported seven injuries, citing the Iberville Office of Emergency Preparedness. So far, there have been no immediate reports of fatalities.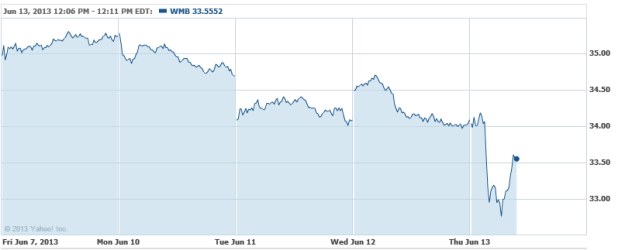 Don't Miss: Will Facebook Shareholders Take Solace in Zuckerberg's Confidence?