Facebook May Friend BlackBerry, GM Bankruptcy in Rearview Mirror: Market Recap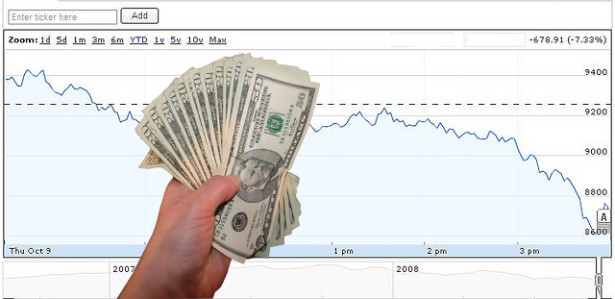 U.S. stocks fell during trading on Wednesday, snapping a four-day gain by the S&P 500 when the Federal Reserve wrapped up its two-day policy meeting by announcing that it will continue with its $85 billion a month bond purchases as expected. The Fed did make some policy changes that sparked speculation that the central bank could begin cutting stimulus sooner than the March 2014 date economists said they were expecting earlier this month.

Gold: -0.08% to $1,344.40 per ounce Oil: -1.51% to $96.72 per barrel U.S. 10-Year: +0.08 to 2.53%
ADP Employment Report: Job Growth Hits 6-Month Low: Since June, payroll processor ADP's nonfarm, private employment data showed that job creation has decreased in every subsequent month. June saw 190,000 payroll additions, a figure that dropped to 161,000 in July, 151,000 in August, 145,000 in September, and 130,000 in October. In fact, the 130,000 job gain was the lowest number of additions recorded since April's 124,000. Even after September's 166,000 payroll additions were downwardly revised, this month's job creation was shockingly low.
Tame Inflation Keeps the Door Open for Easy Money Policy: The U.S. Bureau of Labor Statistics's seasonally adjusted Consumer Price Index for All Urban Consumers, or CPI-U, increased by 0.2 percent on the month in September. This was in line with economist expectations and consistent with the generally soft price pressures experienced over the past several months. Headline consumer prices are up 1.2 percent on the year.
Lower Interest Rates Help Housing Market Shake Off Government Shutdown: With interest rates falling to their lowest level in almost five months, mortgage applications managed to climb last week and appear set to place any effects from the government shutdown in the rear-view mirror. According to the Mortgage Bankers Association's latest report, for the week ended October 25, loan applications jumped 6.4 percent on a seasonally-adjusted basis from one week earlier — the 8th gain in 25 weeks. That followed a drop of 0.6 percent in the previous week.
Here's your cheat sheet to today's top stocks stories:
General Motors (NYSE:GM) reported third-quarter financial results on Wednesday morning. At a glance, General Motors missed expectations, but opening up the hood reveals ultimately favorable one-time charges and strong underlying results that more than makes up for the financial hiccup. General Motors' total revenue increased 3.7 percent on the year to $37 billion, missing the mean analyst estimate of $39.49 billion. Total worldwide vehicle sales in the third quarter increased 5.5 percent to about 2.4 million, and year-to-date sales are up 4.6 percent to nearly 7.3 million.
Comcast Corp. (NASDAQ:CMCSA) reported third-quarter results after the opening bell Wednesday that showed growth across Comcast's different businesses, especially in media arm NBCUniversal, though the struggle of the decaying pay-TV model was still present in Comcast's report. Consolidated revenue grew 5.2 percent and operating cash flow increased 10.5 percent excluding gains from the 2012 Olympics. Earnings per share came in at 65 cents.
Sprint Corp. (NYSE:S) reported third-quarter results that showed continued year-over-year growth in wireless service revenue for the thirteenth consecutive quarter. While Sprint — which was acquired by Softbank (SFTBF.PK) in July for $21.6 billion — reported a third-quarter profit in addition to wireless revenue growth, the company did lose 360,000 contract subscribers. However, the losses were fewer than the 371,000 that analysts had expected Sprint to report, and Chief Financial Officer Joe Euteneuer told analysts during the company's conference call that the company expects to add subscribers in the fourth quarter.
BlackBerry (NASDAQ:BBRY) may have another bidder on the table. Sources told the Wall Street Journal that executives from the Canadian smartphone maker flew to California last week to meet with Facebook (NASDAQ:FB). According to the Journal, BlackBerry met with Facebook at its headquarters in Palo Alto, California to determine whether the social network had any interest in a potential bid for the struggling smartphone company. BlackBerry put itself up for sale in August and has now collected a handful of potential buyers.
Microsoft Corp. (NASDAQ:MSFT) is now seeking approval for its acquisition of Nokia Corp.'s (NYSE:NOK) devices and services unit from the European Commission, which has said it will have an answer for the company by December 4, according to a report from Reuters. The $7.2 billion acquisition was announced at the beginning of September. Microsoft wants Nokia's smartphones because they run on Microsoft's Windows Phone platform, and Microsoft said owning the handset division that makes those devices gives it more control and allows it to see better profits from the phones.
Follow Jacqueline on Twitter @Jacqui_WSCS
Don't Miss: Here's Why BlackBerry Lunched with Facebook Last Week.