Facebook Moves into Israel With Onavo Purchase and 2 Other Hot Stocks to Watch
Facebook Inc. (NASDAQ:FB): Current price $49.53
In a statement on Monday, Facebook announced that it is buying the Israeli mobile tech startup Onavo, and opening its first office in Israel. The buyer said that the acquisition would help it create improved mobile products and also connect more people worldwide to the Internet, which has become a Facebook project recently. Onavo produces tech that compresses content, permitting mobile users to use more data. Israeli media said that the price tag for the startup is over $100 million, and that the deal represents Facebook's biggest acquisition of an Israeli firm.

Coronado Biosciences, Inc. (NASDAQ:CNDO): Current price $2.09
On Monday, Coronado announced top-line results from TRUST-I, its Phase 2 clinical trial evaluating TSO (Trichuris suis ova or CNDO-201) in 250 patients who have moderate-to-severe Crohn's disease. The TRUST-I study failed to meet its primary endpoint of improving response, defined as a 100-point decrease in the Crohn's Disease Activity Index, and also the key secondary endpoint of remission, defined as attaining CDAI 150 points. In the overall patient population, response rate of patients on TSO did not separate from that of placebo. Shares are down Monday by around 65 percent in extremely high volume.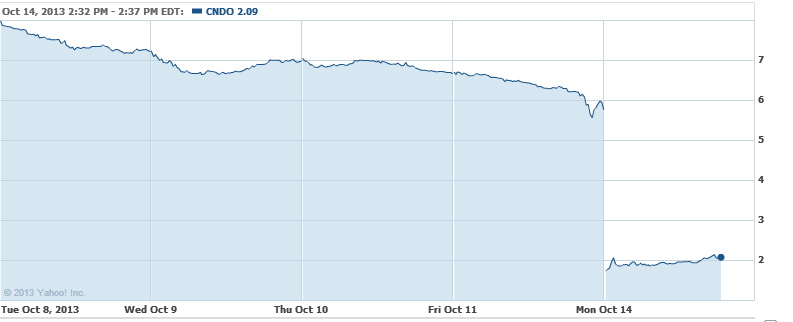 Expedia Inc. (NASDAQ:EXPE): Current price $48.40
Expedia shares are down about 7.5 percent Monday, after analyst Ross Sandler at Deutsche Bank lowered his rating from Buy to Hold, and cut his price target from $66 to $51, writing in a research note that the firm is "facing much more intense competition in the U.S. market." The analyst also brought up fears concerning Expedia replacing the management team of its Hotels.com business last week, as he thinks that the move might "drive further downside to our estimates" during the new management-transition period.

Don't Miss: Facebook Acquires Onavo: Lofty Goals and Cold Hard Cash.