Facebook Moving NYC Office to Broadway and 2 Other Hot Stocks to Watch
Facebook (NASDAQ:FB): Current price $23.66
Facebook is moving up in New York City, with a 10-year lease for two floors of space at 770 Broadway, totaling just shy of 100,000 square feet of real estate, according to a company announcement Monday night. The renowned architect Frank Gehry, who is already developing the firm's Menlo Park expansion, will oversee the design of Facebook's new Manhattan office. One of Facebook's new neighbors will be AOL, whose New York City operations are  headquartered at 770 Broadway as well. Crain's New York Business first reported Facebook's interest in this space two weeks ago.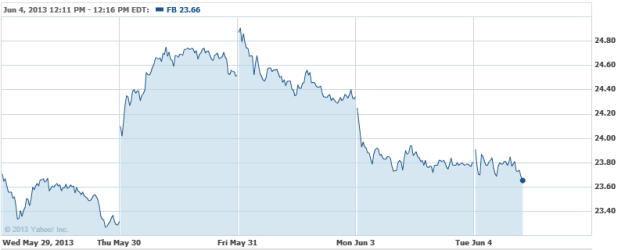 General Motors Company (NYSE:GM): Current price $35.17
After the close on Thursday, S&P Dow Jones Indices will make the following modifications to the S&P 100 and 500 indices: General Motors  will replace H. J. Heinz Co. (NYSE:HNZ) in the S&P 100 and 500 indices. An investment consortium composed of the S&P 100 and 500 constituent Berkshire Hathaway (NYSE:BRKB), together with an investment fund affiliated with 3G Capital is purchasing Heinz in a deal that should be completed on or about that date.

Cisco Systems (NASDAQ:CSCO): Current price $24.44
Earlier Tuesday, Cisco announced that its board declared a quarterly dividend of 17 cents per common share to be paid on July 24, to all shareholders of record as of the close on July 3. Cisco's previous quarterly dividend of 17 cents per common share was paid on April 24th. Future dividends will be subject to the approval of the board.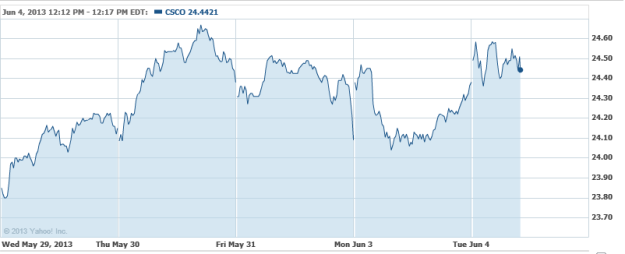 Don't Miss: How Secure Are Your Social Media Accounts?