Facebook Now Using Updated Ad Tech and 2 Other Hot Stocks To Watch
Facebook (NASDAQ:FB): Current price $28.44
The firm now employs updated tech with which to place ads where they bring the optimum returns for online marketers, the platform they target notwithstanding, in the manner Google (NASDAQ:GOOG) said it was using when it reported results in late April. Facebook ad revenue growth is taking off for the third consecutive quarter, and the firm is quickly becoming a viable alternative to Google.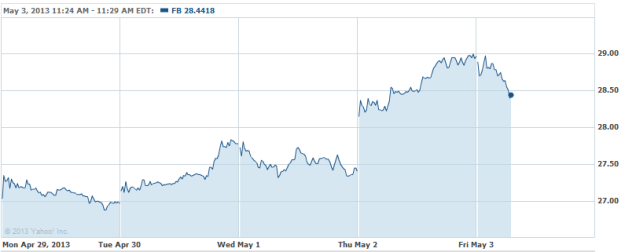 American International Group (NYSE:AIG): Current price $44.41
Chief Executive Robert Benmosche started off the firm's conference call Friday with the comment, "Since mid-2011 the focus of our company has been to get the fundamentals right." Late on Thursday AIG posted a first-quarter underwriting profit for its property and casualty insurance division. Analyst Josh Sterling at BernsteinResearch reported that the first-quarter results indicated an "inflection point" in the company's transformation.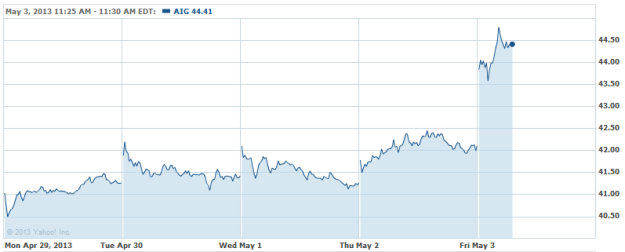 American Capital Agency Corp. (NASDAQ:AGNC): Current price $30.81
On Friday, the corporation posted a comprehensive loss for the first quarter of $557 million, or $1.57 per common share, and net book value of $28.93 per common share.  The quarterly economic return, defined as dividends on common shares adding the change in net book value per common share, was a loss of $1.46 per common share, 4.6 percent for the quarter, or a loss of 18.7 percent on an annualized basis.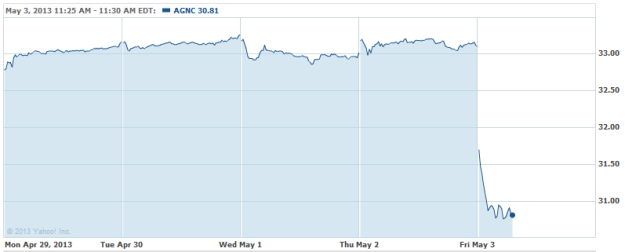 Don't Miss: Facebook: Profits Arrive From New Mobile Products.