Facebook Partners WIth Opscode and 4 Social Media Stocks Seeing Action
Facebook, Inc. (NASDAQ:FB):  Current price $28.21
Seattle-based cloud infrastructure automation company Opscode announced that the social media giant Facebook, Inc. has deployed their Private Chef environment for their web-tier infrastructure.

LinkedIn Corporation (NYSE:LNKD):  Current price $123.40
LinkedIn, the world's largest professional network, has made an announcement on their blog that the new Blackberry devices already come with the LinkedIn app. In other words, users need not download the app, but just sign in and explore the professional network.
Are these stocks a buy or sell? Let us help you decide. Check out our Stock Picker Newsletter now.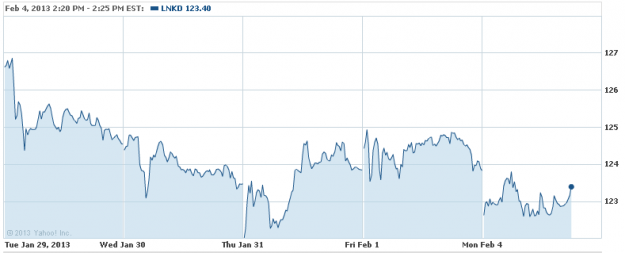 Groupon, Inc. (NASDAQ:GRPN):  Current price $5.45
Daily deals site Groupon, Inc. announced the release of the newest version of the Groupon Merchants app for Android (v2.2). The latest version incorporates Groupon Payments into the platform, providing merchants a better way to accept credit cards at the guaranteed lowest overall rates.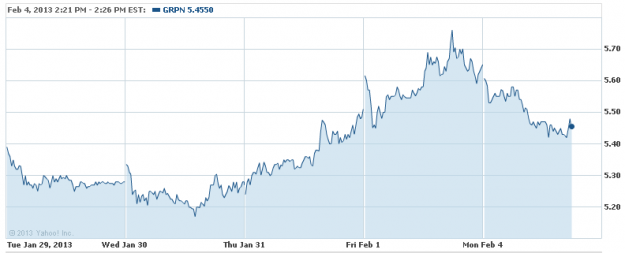 Zynga, Inc. (NASDAQ:ZNGA): Current price $2.5780
According to the Financial Times, the European Union will soon debut a revamp of their anti-money laundering laws aimed at closing loopholes, including plans to apply the regulations to the entire gambling sector consisting of online gaming, not just casinos. The Fly notes that Caesars Entertainment operates online poker sites in Europe with partner 888 Holdings, while Zynga (NASDAQ:ZNGA) announced a partnership with bwin.party to offer real money, online poker, and casino games in the United Kingdom of October 2012.

Yelp, Inc. (NYSE:YELP): Current price $20.21
Passport Capital reported a 6.3% passive stake in Yelp, Inc.

Don't Miss: Stocks Fight Off Washington D.C.