Facebook Rewards Researcher For Finding Security Hazard and 2 Other Hot Stocks to Watch
Facebook (NASDAQ:FB): Current price $24.79
Security researcher Jack Whitton of the United Kingdom has been awarded $20,000 by Facebook for reporting a bug that could have been used by hackers to take over users' accounts. In May, Whitton discovered that it was possible to hack into other users' Facebook accounts without them being aware of it, simply by sending a text message to Facebook, according to Dave Lee of BBC News. The flaw, which Facebook has since repaired, was in a Facebook service that permits users to link their mobile phones with their accounts, which then allows them log into Facebook using their phone number instead of their email address, and to send profile updates via text message. To get the feature started, a user sends a text message to Facebook, which texts back an authorization code, tying the user's device to their account. For his part, Whitton saw that Facebook's authorization code could be manipulated to work with the accounts of other users accounts as well, allowing a hacker to change the password and gain complete control over the account.

Bank of America Corporation (NYSE:BAC): Current price $13.85
On Monday, Bank of America Merrill Lynch said that it was named a 2013 Partner in Transformation for Sears Holdings Corporation. The BofA firm received the award for "outstanding partnership" in overseeing the credit facility that supported the separation of Sears Hometown and Outlet Stores from Sears Holdings. The designation also commemorated the bank's leadership in supplying Sears with card and payments solutions, including the implementation of ePayables in 2012. The award was recently presented by Sears Holdings at the firm's 2013 Vendor Summit.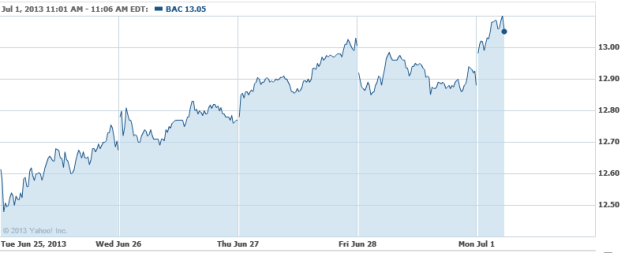 BlackBerry (NASDAQ:BBRY): Current price $10.41
BlackBerry shares were downgraded by analysts at Needham and Deutsche Bank on Monday after the company it reported disappointing earnings on Friday. Needham cut its rating to Underperform from Hold because of BlackBerry's slumping sales, even in the face of the release of new devices. Deutsche Bank reduced its guidance to Sell, citing a price target of $6 thanks to the firm's difficulty in keeping up in the tough smartphone market.