Facebook Sees Rating Slashed to Sell and 3 Social Media Stocks Action
Facebook, Inc. (NASDAQ:FB):  Current price $28.31
BTIG's Richard Greenfield cut Facebook, Inc. to a sell rating, citing slowing mobile ad growth, disappointment over desktop revenue, and concerns over user engagement with the social network.

LinkedIn Corporation (NYSE:LNKD):  Current price $160.61
Discussion threads vary in a LinkedIn group that is exclusively available to University of Colorado graduates, ranging from a young professional looking for a roommate in the Los Angeles area to a plug for a cookbook written by a half dozen male graduates from the school. CU is among a dozen universities across the country that have joined in an official partnership with the popular and professional social media platform. The new partnership is an experiment, but within the first week, the number of people who  joined the official CU-Boulder group on LinkedIn has increased by more than 5,000 to about 25,000.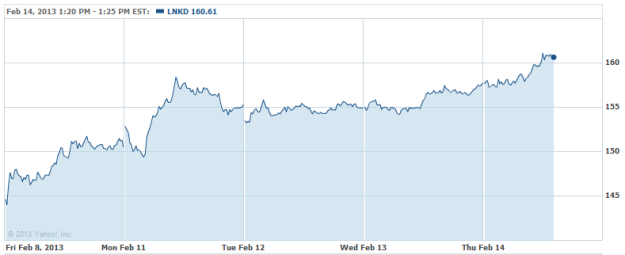 Groupon, Inc. (NASDAQ:GRPN):  Current price $5.72
In a rapid-fire series of six Twitter posts, Groupon, Inc.'s Andrew Mason showed he does not like some sandwich shops' habits of putting mayonnaise on their lunchtime creations, regardless of whether customers want mayo or not. Mayonnaise by default "makes no sense," Mason asserts. It would be much better if sandwich shops let customers decide for themselves whether to put mayo on their bread.

Pandora Media, Inc. (NYSE:P):  Current price $12.47
Listener hours are the company's bread and butter. This is the inventory they need to sell advertising, and in order to make good on their promise to investors, those hours need to keep up their rapid growth rate. In the last seven months, year-over-year growth has slowed from 101% to 67%. If it falls to under 50% for consecutive months in the next year, that may be cause for concern.

Don't Miss: Which Social Media Stocks have the Strongest Earnings Trends: Facebook, Zynga, Linkedin, Groupon or Yelp?