Facebook Slide Blamed On Teenage Boredom and 2 More Heavily Traded Stocks to Follow
Facebook (NASDAQ:FB): Current price $22.90
Facebook shares have now slid by about 20 percent since its results were reported on May 1. The analyst Gene Munster at Piper Jaffray cited two factors that he believes might be responsible. The first is investor expectations that the firm's ad growth rate will stall in June "based on the slowing trajectory reported in the first quarter." However, the second is the increasing fear that teenagers are getting bored with the social network as he wrote, "There have been an increasing number of reports suggesting Facebook's momentum among teens is slowing," citing Piper Jaffray's own survey. Also, Munster noted that Facebook executives in May explained that "social is not a zero sum game" and that total time spent sharing content online is still growing.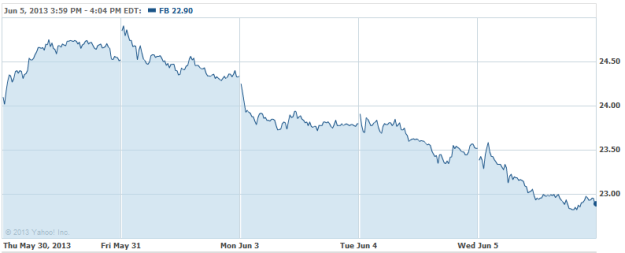 Bank of America Corporation (NYSE:BAC): Current price $13.08
The CLSA analyst Mike Mayo contends that BofA is still posed with "significant legal tail risk" linked with mortgage-backed securities. Mayo has a Sell on the bank, and has maintained the rating even while the firm has put together a series of legal victories connected with its mortgage backed securities litigation exposure. The analyst thinks that an $8.5-billion settlement reached in 2011 between BofA and a number of large institutions is still at risk of being turned aside by New York State Supreme Court's Judge Barbara Kapnick, even though many parties who at first objected, but since have dropped their opposition to the deal.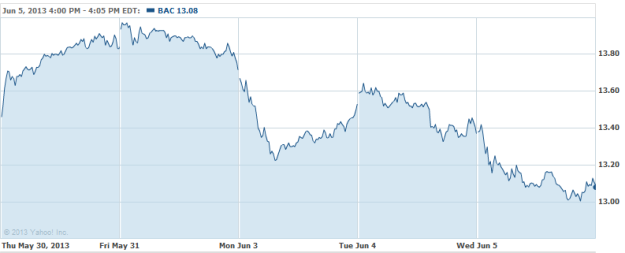 General Electric Company (NYSE:GE): Current price $22.29
GE and the electric cooperative Kotzebue Electric Association, which supplies electricity to the remote city of Kotzebue and other rural areas of Alaska, have commenced a joint project through which to boost the energy efficiency, and extend the fuel supply of several diesel engines that power Kotzebue. For its part, GE will supply a Clean Cycle heat-to-power generator that will employ the diesel engines' exhaust heat to generate electricity for the local grid.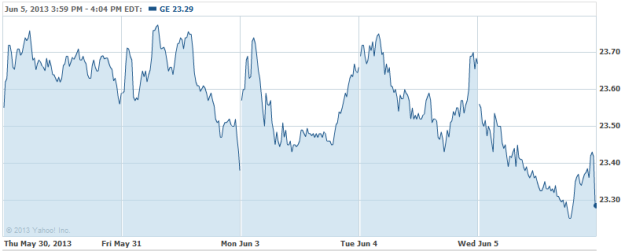 Don't Miss: What's the Most Interesting Thing Facebook Could Do Next Quarter?