Facebook Talks to Buy Waze Collapse and 2 Other Hot Stocks to Watch
Facebook (NASDAQ:FB): Current price $23.60
Knowledgeable sources say that Facebook is no longer in discussions to purchase the Israel-based social mapping and navigation start-up Waze. The parties had been in negotiations for a potential acquisition, at a price tag that of roughly $1 billion, but the talks collapsed in recent days, say the sources, in part due to a debate over whether the Waze team, which is predominantly based in Israel, would move to the United States and integrate itself into Facebook's  headquarters in California.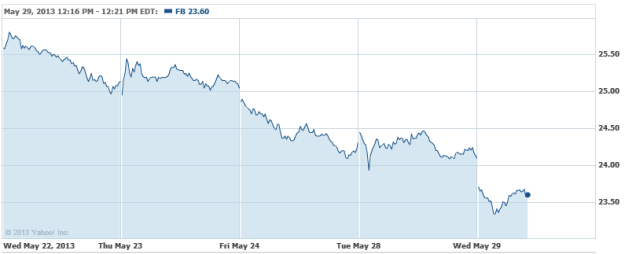 Chimera Investment Corporation (NYSE:CIM): Current price $3.06
On Wednesday, Chimera announced that Robert Colligan has been selected as Chief Financial Officer, in which position he will manage the firm's treasury, accounting, and financial reporting functions. Colligan has been working in accounting and finance for more than 20 years, and joins Fixed Income Discount Advisory Company, the external manager of Chimera, as a managing director, coming from Starwood Capital Group where he was the controller for the last five years.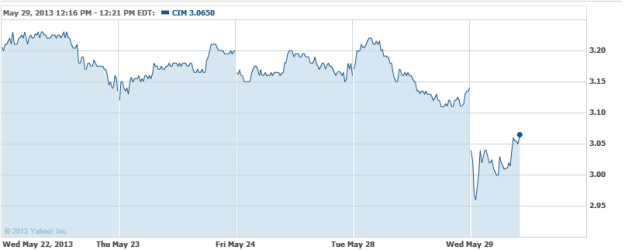 Sirius XM Radio (NASDAQ:SIRI): Current price $3.54
Sirius and Relevent Sports, a division of RSE Ventures, announced Wednesday a broadcast accord that will provide a series of world class soccer matches to listeners across the United States on SiriusXM FC, channel 94. The channel is available to subscribers via satellite radios, through the SiriusXM Internet Radio App, and online at SiriusXM.com. Listeners will receive live play-by-play of several matches organized by Relevent Sports, including this summer's inaugural Guinness International Champions Cup tournament, along with other matches like the Spain-Ireland friendly at Yankee Stadium in June.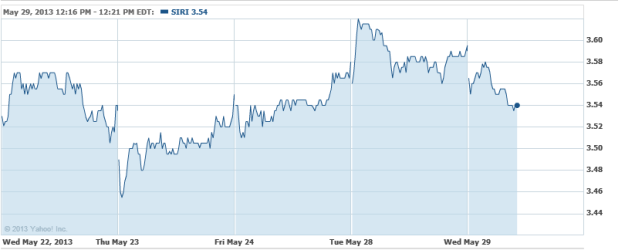 Don't Miss: Has Facebook Given Up on Waze?