Facebook Tests More Targeted Ads and 2 Hot Stocks to Watch
Bank of America (NYSE:BAC): It is possible that the strong recovery in housing prices may deliver a significant boost earnings and capital at Bank of America over the next two years, Atlantic Equities analyst Richard Staite reports. The bank will probably see a big improvement on this measure while the recovery in home prices has the ability to accelerate the decline in servicing costs, currently running at $10 billion a year at the bank. "Higher prices and housing market activity help reduce foreclosure related losses and speed up the reduction in the number of problem loans," Staite stated in his report. Furthermore, improvements in pre-provision net revenue has been a major factor in the U.S. Federal Reserve's stress test. Bank of America gained Fed approval for a $5 billion buyback in 2013, but the analyst believes that this will be boosted to $10 billion in 2014 and $12 billion in 2015.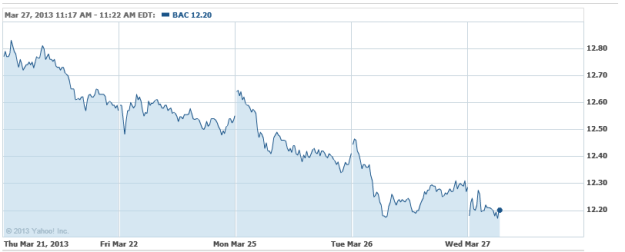 Cliffs Natural Resources (NYSE:CLF): The company is the largest U.S. iron-ore miner, and it saw its biggest decline in the six weeks after analysts at Morgan Stanley stated that new supply in North America could potentially lower the commodity's price, Bloomberg reports. Cliffs saw a 12 percent decline to $18.94 at 9:41 a.m. in New York, after it had already fallen 15 percent, the most intraday since February 13. The shares have dropped a total of 51 percent this year, causing it to be year's worst performer on the Standard & Poor's 500 Index. Cliffs dropped 20 percent on February 13 after it announced that it would cut its dividend and issue shares amid slumping global iron-ore prices and cost overruns at its flagship Canadian mine.

Facebook (NASDAQ:FB): The company will test targeted advertisements on user News Feeds as part of its broader plan bring in more revenue. These ads will be part of Facebook Exchange, which is a system that businesses can use for the delivery of ads to users based on their browsing interests. The Exchange ads are to appear very similar to content displayed on the News Feed from friends. Usually, users would see ads in a Sponsored section to the right of the page, but Facebook claims that the goal is to deliver ads that are more relevant to users. "Allowing advertisers to reach people in News Feed is important because people spend more time in News Feed than any other part of Facebook," claims a statement by Facebook. The experiment is part of a "small alpha test," so the amount of users who will see these ads or when Facebook intends to release this to all its users is unclear.

Don't Miss: What Happens in an Internet Minute?