Facebook Tests Star-Rating System for Users and 2 Other Hot Stocks to Watch
Facebook Inc. (NASDAQ:FB): Current price $47.56
On Thursday morning, TechCrunch reported that Facebook is trying out a system of publicly displaying star ratings on Pages, permitting users to rate between one to five stars. It appears that the Facebook "Like" is now confusing and overdone, because users' "Likes" really do not mean anything anymore and have become almost meaningless. By adding a public rating feature, Facebook would let users share more meaningful opinions or to learn more about a company or cafe. Perhaps more importantly, it would place Facebook in better shape to compete with Yelp and FourSquare.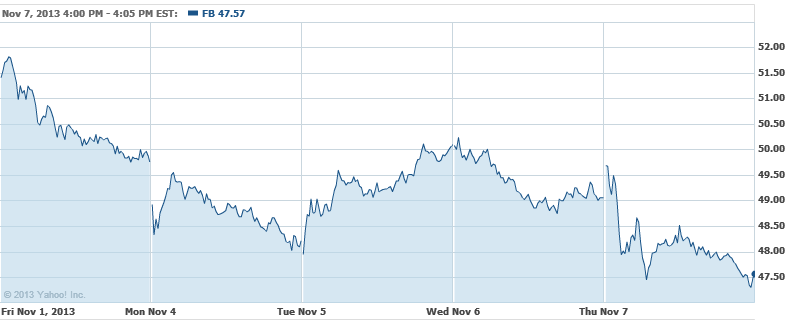 Geron Corp. (NASDAQ:GERN): Current price $6.03
Geron shares are up by 65 percent Thursday morning in heavy trading as an abstract posted by the American Society of Hematology for the company's myelofibrosis treatment imetelstat indicated an overall response rate of 44 percent. It concluded that, "The current study signifies the potential value of telomerase-based treatment strategies in MF and identifies imetelstat as an active drug in that regard. The observed morphologic and molecular remissions confirm selective anti-clonal activity, which has thus far eluded other drugs in MF, including JAK inhibitors. The association between response and spliceosome mutations suggests a broader application for the drug in myeloid malignancies."

Micron Technology Inc. (NASDAQ:MU): Current price $17.80
Micron announced Thursday it will adapt its Hybrid Memory Cube for petascale supercomputer systems, marking an inportant step forward in memory tech. The Cube was created for applications requiring low-energy, high-bandwidth access to memory, which is the key requirement for supercomputers. Other apps include data packet processing, data packet buffering or storage, and processor acceleration. Micron and Fujitsu will each exhibit a display board that features HMC devices in Fujitsu's next-generation supercomputer prototype at the Supercomputing '13 Conference in Denver, November 19 through 21.

Don't Miss: Does This Apple Patent Offer Yet Another iWatch Clue?