Facebook Touches $50.09 on Goldman PT Upgrade and 2 Other Hot Stocks to Watch
Facebook Inc. (NASDAQ:FB): Current price $50.48
Facebook shares for the first time broke through the $50 level. On Thursday morning, the stock touched $50.09 after Goldman Sachs raised its price target for the social network from $52 to $58. Analyst Heather Bellini pointed to Facebook's presentation at AdWeek 2013 in New York, writing to clients that, "Our conversations on the conference floor suggest continuing momentum for Facebook, but also significant runway left. Positive sentiment by attendees toward Facebook's ad products, the successful case studies the company's advertisers presented, and the company's increasing commitment to serving advertisers' needs."

Hertz Global Holdings Inc. (NYSE:HTZ): Current price $22.48
Hertz is down almost 12 percent in heavy trading, after the company reduced its forecast for full-year revenue and profit, blaming weaker-than-expected car rentals at domestic airports. The shares had gained 58 percent in 2013 before Thursday, versus with a 20-percent gain in the Russell 1000 Index. In a statement, Hertz forecast that sales will likely turn out to be between $10.8 billion and $10.9 billion, down somewhat from a forecast in February of $10.85 billion to $10.95 billion. At the same time, the company cut its forecast for adjusted profit to $780 million to $830 million, down from an earlier projection of $830 million to $875 million.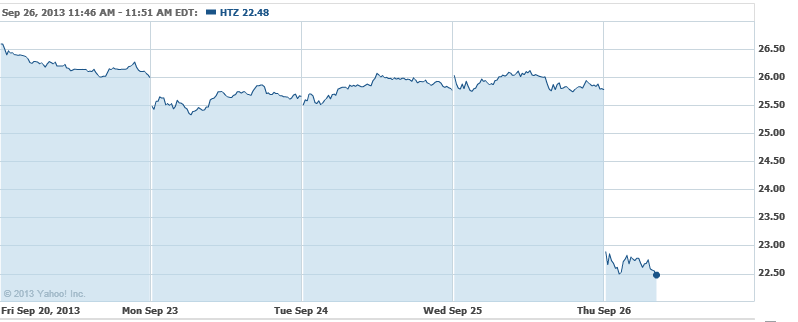 BlackBerry Ltd. (NASDAQ:BBRY): Current price $7.79
Late on Wednesday, Black Berry cancelled Friday's scheduled conference call "in light of" the tentative agreement with Fairfax, and said that it will not elaborate on the second quarter until its internal analysis is filed next week. Earlier this week, the smartphone company announced it had reached a tentative agreement with Fairfax Financial to go private for $4.7 billion, but a large number of questions remain, and analysts would have been sure to press Chief Executive Thorsten Heins during the call, which the company apparently decided to put off for a while. There is no requirement that conference calls have to be held, but they have become so expected nowadays that not having them may raise eyebrows in certain cases.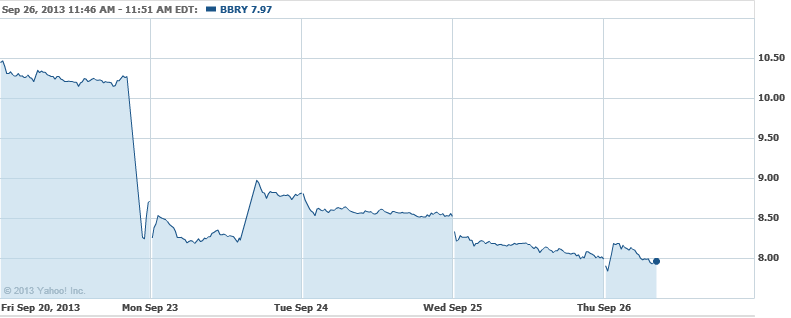 Don't Miss: Twitter IPO: Two More Top Banks Swoop In