Facebook Unveils Messaging Experiment and 2 Other Heavily Traded Stocks
Facebook (NASDAQ:FB): Current price $26.87
CNNMoney said that Facebook is allowing certain of its users in almost 40 countries access to a trial service that will charge them a fee for sending direct, personal messages to persons outside their network, meaning that if one been trying to get in touch with a favorite celebrity or a secret crush in the office who doesn't know his or her name, Facebook could be able to assist. The social media giant has been testing the pay-to-message concept for a while now the United States. The price for sending a direct Facebook message will vary due to several different factors, which include the popularity of the person one is attempting to contact and how many other messages are sent to them.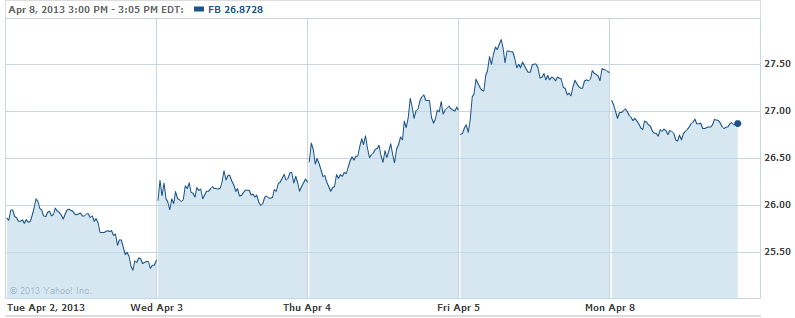 Best Buy Co. (NYSE:BBY): Current price $25.85
Credit Suisse believes that Best Buy's Samsung (SSNLF) deal indicates the value that Best Buy brings to the consumer purchasing process and the potential for notably higher gross margins. The firm sees increased pressure on Apple (NASDAQ:AAPL) to be more supportive of its in-store shops with Best Buy, along maintaining its Outperform and $30 price target.

General Electric Company (NYSE:GE): Current price $23.04
GE is acquiring the oilfield pump manufacturer Lufkin Industries (NASDAQ:LUFK) for $2.98 billion, sharply ramping up its footprint in the fast-growing market to extract oil and natural gas from shale rock, according to the conglomerate on Monday. The transaction values Lufkin at $88.50 per share, marking a premium of over 38 percent to the stock's Friday close. The Lufkin deal, which the parties expect to close by June, is GE's first major purchase since it divested its remaining interest in NBC Universal two months ago and is part of Chief Executive Jeff Immelt's plan to focus his company on energy and other high-growth areas.

Don't Miss: More Proof Zynga Doesn't Care About Shareholders?