Facebook Went Shopping and 2 Other Hot Stocks
Facebook (NASDAQ:FB): Facebook has acquired Osmeta, a mobile startup that has seemed to slipped beneath the radar. The company made the purchase last week, just prior to the launch of Facebook Home. Osmeta boasts some serious chops, having been started by some alumni from Google (NASDAQ:GOOG) and IBM (NYSE:IBM), though its purpose isn't entirely clear — its about page reads "world-renowned hackers and highly accomplished researchers capable of herculean software engineering." Osmeta has yet to release a product, and Facebook's intention for the company is murky as well.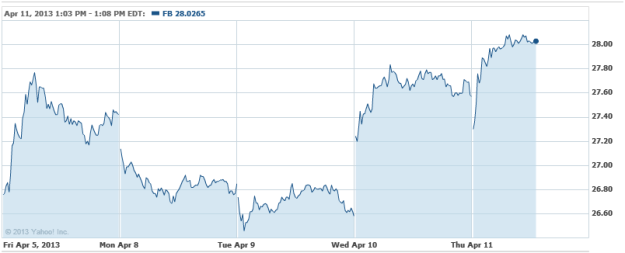 Fortinet (NASDAQ:FTNT): Fortinet's shares have taken a battering, following a warning that the company had lowered its first quarter estimates. The company cited a failure to close U.S. provider deals as its reasoning, as well as larger economic pressures overseas and, problems with timing of new product releases and inventory shortages. By 12:50 PM EST, shares were down over 14 percent, following a similar decline in after-hours trading on Wednesday.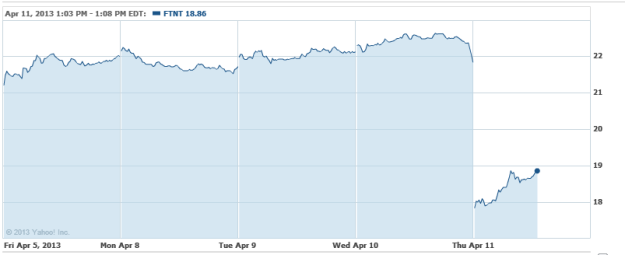 Acadia Pharmaceuticals (NASDAQ:ACAD): Shares are soaring over 55 percent for the drug maker, following the announcement that its Parkinson's disease psychosis drug pimavanserin was granted a fast track to approval from the FDA. Successful Phase III trials last year means the company will not have to engage in confirmatory Phase IIIs, which were scheduled to begin later this month.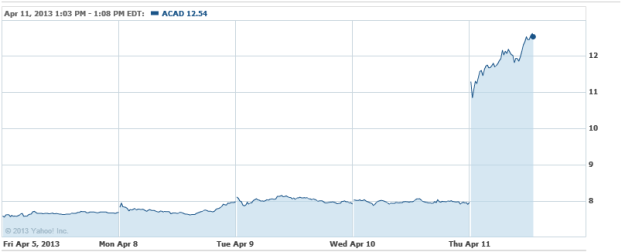 Don't Miss: What are Apple's Plans for Palm Patents?