Facebook Will Report Chatter to TV Networks About Shows and 2 Other Hot Stocks to Watch
Facebook Inc. (NASDAQ:FB): Current price $51.17
Although it says that it will not make the data generally open to the pubic, Facebook will begin sending weekly reports to the four largest domestic television networks this week, providing a look at how much chatter their shows are causing on the social network. The reports will contain how many "actions" such as likes, comments, or shares a TV episode has generated on Facebook and how many members took part in an action. Facebook will share the data reports with Fox, ABC, NBC, and CBS, and a few select partners.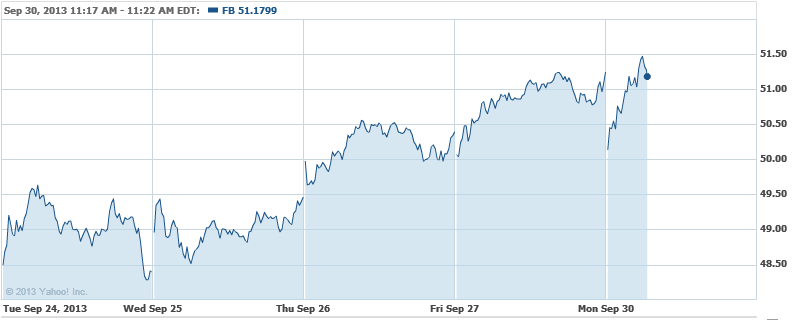 The Active Network Inc. (NYSE:ACTV): Current price $14.35
The producer of event management will be purchased by the private equity firm Vista Equity Partners in a transaction valued at approximately $904 million, a bit than two years after it went public. Vista Equity is ready make a tender offer of $14.50 per share, marking a 27.2 percent premium to Active Network's Friday close. Although the firm's customers include Cisco Systems Inc., IBM Corp., Starbucks Corp. and the audio company Bose Corp., it has not shown an annual profit in its 15 years of existence. The company gets the majority of its revenue from registration and reservation fees paid by participants. Shares are up almost 26 percent Monday in heavy trading.
Achillion Pharmaceuticals Inc. (NASDAQ:ACHN): Current p[rice $3.25
Achillion share are down almost 55 percent Monday after the FDA decided to keep the firm's experimental hepatitis C drug sovaprevir on hold due to abnormal liver results. The stock had fallen by 9.6 percent this year through September 27. The FDA determined that the compound's development shouldn't resume after Achillion responded to all the questions raised by the agency in June, according to a company statement after the market closed on Friday. Chief Executive Milind Deshpande reported in the statement that the firm will center on other hepatitis C medicines in its portfolio with results of a planned combination evaluation of two drugs by 2014.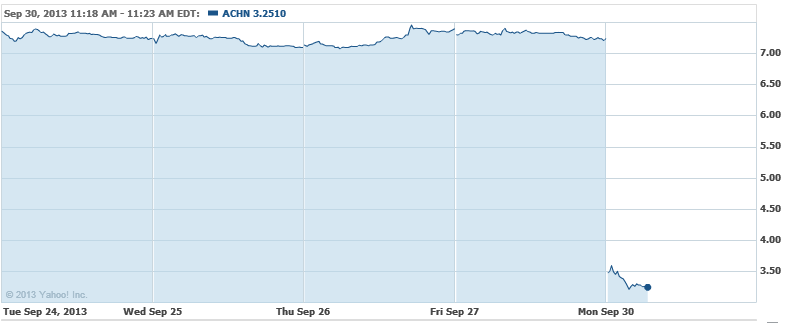 Don't Miss: Facebook and Twitter Battle for Broadcaster Dollars.