Facebook's Empire is Growing and 2 Other Heavily Traded Stocks
Citigroup (NYSE:C): Current price $44.86
The Federal Reserve has ordered Citigroup to more throughly check for the risk of money laundering, as part of a broad Unites States regulatory tightening on the potential for illicit money flows, according to Reuters. Citigroup's board was told to submit a plan within 60 days through which to improve its oversight of companywide anti-money laundering compliance, according to a consent order dated March 21, but only made public Tuesday. The order increases upon similar directives targeted at several Citigroup divisions in 2012. The Fed said that the board's plan should include funding personnel and resources based on the risks of different units, which are policies that inculcate a "proactive approach" to the identification and management of money-laundering risks, and measures to make certain that employees adhere to those compliance policies.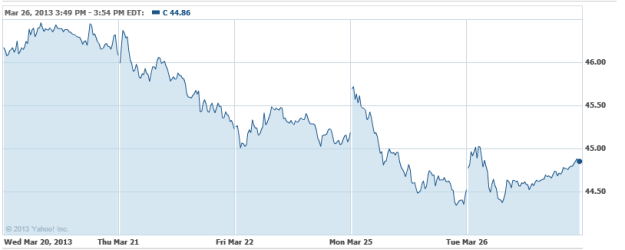 Microsoft Corporation (NASDAQ:MSFT): Current price $28.17
Microsoft has modified its Mail, Calendar, and People applications for Windows 8 and RT users with some needed improvements, according to CNET. The three core applications, which are bundled together, got some long overdue tweaks Monday night that make them a bit more user-friendly. However, along with those improvements comes a downside: the Calendar app will no longer synchronize with Google Calendar appointments. On the upside, the Mail application now offers full folder management, so that one may create, rename, and delete folders and subfolders to better organize e-mail.

Facebook (NASDAQ:FB): Current price $25.22
The number of persons paying to play games on Facebook, which remains the largest social networking service, has grown by 24 percent year-over-year, the firm said at an event in San Francisco, according to Bloomberg, without divulging the number. Also, the number of people who play games generally has risen to some 250 million, marking an increase from 2012. Facebook Chief Executive Mark Zuckerberg is going forward with ramping up gaming among users of the site and lessen its dependence on Zynga (NASDAQ:ZNGA) to lure gamers.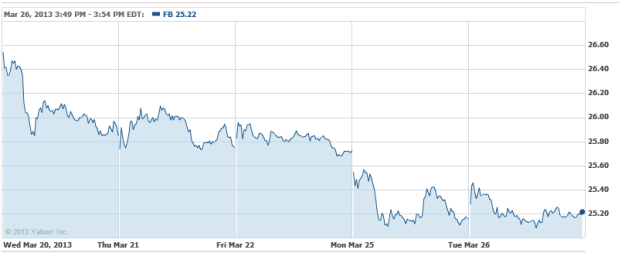 Don't Miss: Will Easter Bring Out the Bargain Hunters?