Facebook's Huge New Service and the Top Tech Stories You Must Know
Here's your Cheat Sheet to the top tech business stories of the week:
Are these stocks a buy or sell? Let us help you decide. Check out our Stock Picker Newsletter now >>
Nokia Corporation (NYSE:NOK): Current price $4.58
Nokia has earned a respite from results pressures with its quarterly report that was better than was anticipated. Now, the Finnish firm has improved prospects and options to aid its efforts to sit beside Apple and Samsung in the smartphone market and also time to continue marketing its new Lumia handsets that were launched in November. The devices have recently gone on sale in pivotal markets like India and China; Nokia is staking future smartphone success on those products. Analyst François Meunier at Morgan Stanley commented that "Reasonable Lumia volumes and much better margins and guidance in devices could reframe the debate on the longterm sustainability of the handset manufacturing business."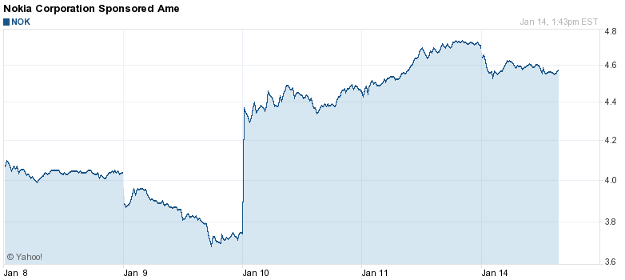 Apple (NASDAQ:AAPL): Current price $502.66
Knowledgeable sources report that weaker-than-anticipated demand has prompted Apple to reduce its orders for components for the iPhone 5. Orders for screens for the phones have been slashed for the first quarter to around half of what had been previously planned and it is said that Apple has cut its orders for components other than screens.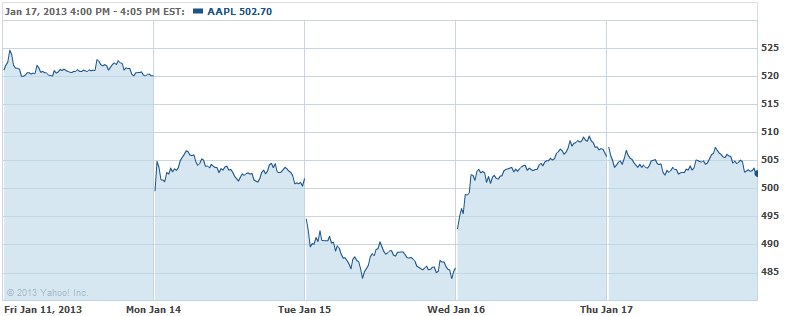 Hewlett-Packard Co. (NYSE:HPQ): Current price $16.73
Chief Executive Meg Whitman was paid almost $15.4 million in fiscal 2012, which was her first full year as chief executive, although this tidy sum was but 70 percent of her targeted compensation, since the company posted a net loss for the year. Whitman, who took a salary of $1 in 2011, enjoyed a performance-related bonus of $1.7 million, more than $7 million in stock awards and $6.4 million in options, according to a filing released on Friday. Whitman became chief executive in September 2011 just before the end of that fiscal year, and for that period, her compensation was $16.5 million.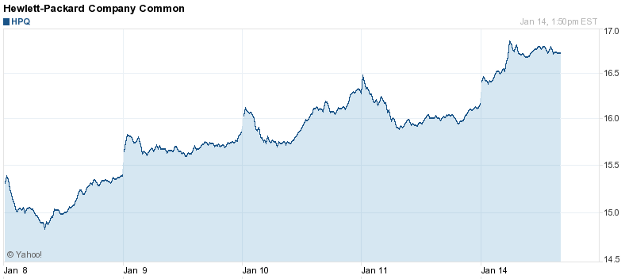 USA Technologies (NASDAQ:USAT): Current price $2.15
USA Technologies has reached ten new exclusive accords with existing customers during the second quarter. The agreements call for exclusive use of the company's comprehensive ePort Connect service and are of three years in duration. Customers involved with the arrangement represent current USAT customers who are regional vending firms as well as a Pepsi distributor.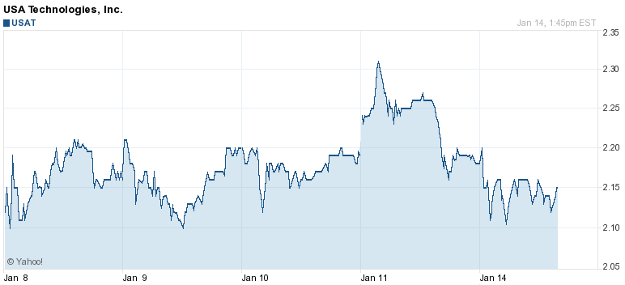 Dell (NASDAQ:DELL): Closing price $12.29
Knowledgeable sources say that Dell is in buyout discussions with private-equity firms, and the subject is the possibility of taking the personal-computer maker private, after it lost nearly one third of its value in 2012. Talks are going on with a minimum of two firms, say the sources, who add that the discussions are preliminary and could collapse because firms may not be able to obtain the financing, or resolve how to leave the investment in the future. A number of large banks have been contacted regarding the provision of funds; Dell had a market value of $18.9 billion as
Facebook (NASDAQ:FB): Current price $30.95
On Monday, Deutsche Bank has upgraded Facebook from Hold to Buy with a price target of $40, raised from $24. DB explained that the company has more revenue momentum than any other that it covers, heading into the new year, and that Mobile Newsfeed Ads are the game-changer, and the acceleration is much faster than was anticipated. The analyst predicted that ad revenue in 2013 should grow by 40 percent, which is well above estimates.
Start 2013 better than ever by saving time and making money with your Limited Time Offer for our highly-acclaimed Stock Picker Newsletter. Click here for our fresh Feature Stock Pick now!
Microsoft Corporation (NASDAQ:MSFT): Closing price $26.89
Apparently, the intro of Windows 8 had no important effect on PC shipments in the fourth quarter, as analysts reported that some PC suppliers offered lackluster form factors in their Windows 8 offerings, and missed the excitement of touch.

Baidu (NASDAQ:BIDU): Closing price $112.64
The Chinese search engine company Baidu is collaborating with France Telecom (NYSE:FTE) in the development of  a mobile browser designed for customers in Africa and the Middle East, a region that both firms have prioritized for growth. This accord marks the first global move as such for Baidu, and the intention is to push for the adoption of the mobile internet in emerging markets by allowing browsing to be simpler and also more affordable. The new browser, which is available in English and Arabic at first, was introduced on Android smartphones by France Telecom's Egyptian operator Mobinil on Monday.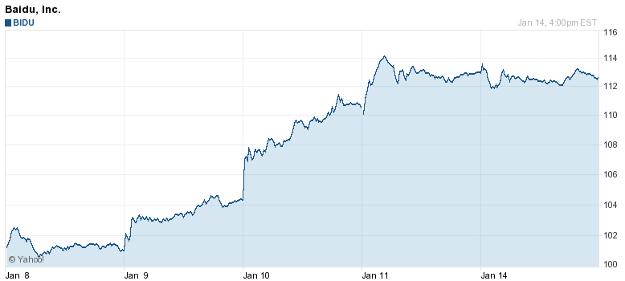 Facebook (NASDAQ:FB): Current price $30.18
Mark Zuckerberg just unveiled Facebook's new beta service called Graph Search, which is essentially a method to navigate the Internet through the data his company owns. Graph Search enables the user to search across different friends' Timelines without the necessity of going to each individual profile to see if they like a specific place or thing. ABC News characterized the new service as, "turning some of the personal information people have shared on Facebook into a powerful searchable database."

Amazon.com (NASDAQ:AMZN): Current price $270.56
Amazon is challenging in court its $234 million United States tax bill, protesting Internal Revenue Service tax calculations for cash transfers between it and its subsidiaries in Europe, says a court filing. The crux of the matter is the pricing of payments, transfer prices, among company divisions, which is an issue on which the government has lost some multi-million dollar cases against large firms. Amazon was advised of the tax deficiency by the IRS back in November and the agency is also contesting taxes on the firm's net operating losses, as well as other items, according to the December 28th court filing.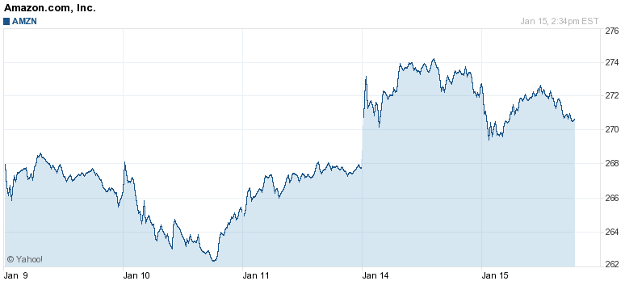 Juniper Networks (NYSE:JNPR): Current price $20.82
On Tuesday at its annual Global Partner Conference, Juniper launched the most comprehensive vision in the industry to transition enterprises and service providers from traditional network infrastructures to software-defined networks and also described its strategy to lead the SDN market. The firm's SDN strategy will permit companies to quicken the design and delivery of new services, reduce the cost of network operation, and provide a clear path to implementation.
Research In Motion Limited (NASDAQ:RIMM): Current price $14.51
On Tuesday morning, RIM was upgraded from Underperform to Buy at Charter Equity. Analyst Ed Snyder said in a note to that  the "curb appeal" of the new BlackBerry 10 operating system which is expected in the coming weeks "could help investors look past Network pricing issues." Pointing to his "preliminary review" of the new operating system, he added that with "a compelling user interface, 70,000 applications and RIM's hallmark QWERTY keyboard included in the SKU line-up, we believe the BB10 platform will appeal to a healthy percentage of the company's 80,000 subscribers, driving an upgrade cycle."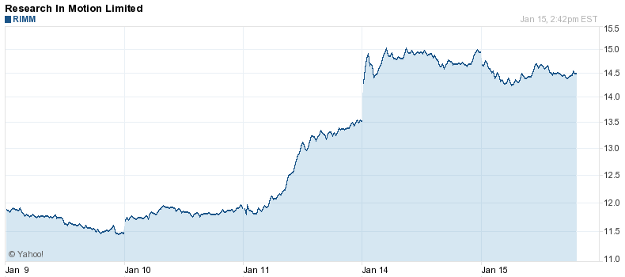 Are these stocks a buy or sell? Let us help you decide. Check out our Stock Picker Newsletter now.
Dell (NASDAQ:DELL): Current price $12.59
Multiple sources have informed Fortune that only the private equity firm Silver Lake Partners remains of the two that were reported late Monday as being in talks with Dell as to a possible leveraged buyout. It appears that each firm was negotiating independently with Dell, and now TPG Capital has walked out. Meanwhile, the Wall Street Journal says that the company is trying to finalize a $23 billion to $25 billion-acquisition that could include participation from both Michael Dell and also a large pension fund or sovereign wealth fund.

Yelp (NYSE:YELP): Current price $20.01
On Wednesday, Yelp shares were downgraded from Market Perform to Underperform at Northland Capital Market after analyst Darren Aftahi pointed to the Tuesday intro of Facebook's Graph Search feature, which he contends "is highly competitive to Yelp, as the platform provides a unique alternative to local business search within the context of one's social network." In reaction, Yelp shares continue Tuesday's downward trend on Wednesday.
Amazon.com (NASDAQ:AMZN): Current price $269.18
Amazon's decision to lease two new data centers could reinforce the reliability of its cloud computing infrastructure in northern Virginia, the location of crucial facilities in the outage-plagued United States-East region. It was revealed this week that Amazon will be the anchor tenant in a new data center project in Ashburn, Virginia.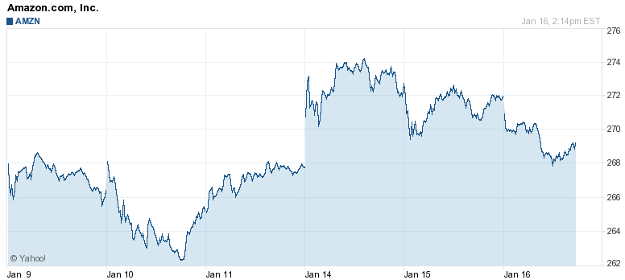 Microsoft Corporation (NASDAQ:MSFT): Current price $27.10
Microsoft's Surface with Windows 8 Pro will become available in the coming weeks, says Electronista, citing the general manager of Microsoft's Surface hardware Panos Panay.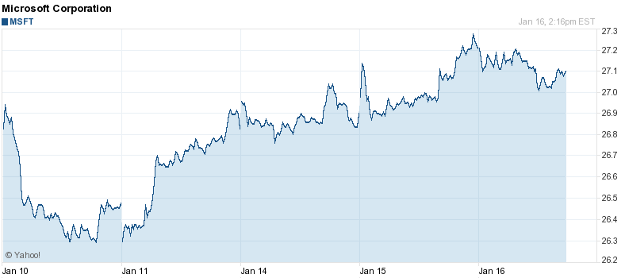 Apple (NASDAQ:AAPL): Current price $506.91
Apple introduces installment payment plans for buyers of iPhones and MacBook laptops in China as it fights to compete with low-cost devices in the biggest computer and mobile-phone market on Earth. Payments on purchases at prices from about $50 through $5,000 made with Apple's Chinese website can be spread out over a maximum of two years. The plan requires a credit card from China Merchants Bank Co. and entails fees between zero and 8.5 percent.

Are these stocks a buy or sell? Let us help you decide. Check out our Stock Picker Newsletter now.
Rackspace Hosting (NYSE:RAX): Current price $77.35
On Wednesday at the Open Compute Summit in Santa Clara, California, the firm's Chief Operations Officer Mark Roenigk revealed plans to open cloud company in support of and in partnership with Open Compute suppliers which supply open source datacenter solutions. In 2012, Rackspace introduced the industry's premier OpenStack powered cloud platform of compute, storage and networking. Roenigk commented that, "Rackspace will support those companies and organizations that share our vision for an open cloud."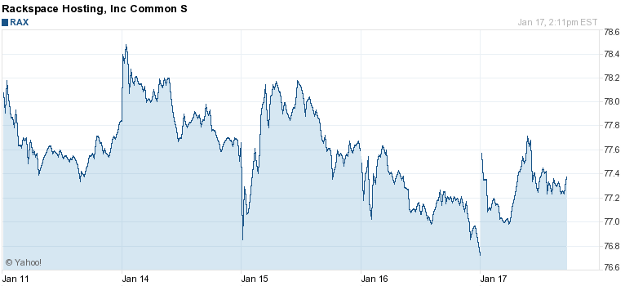 Open Table (NASDAQ:OPEN): Current price $51.84
On January 10th, the company  entered into a credit agreement with Wells Fargo Bank, which provides for a senior secured revolving credit facility of $50 million, for working capital and other general corporate purposes with a three-year maturity. No drawings were made under the revolving facility on the closing date of the agreement.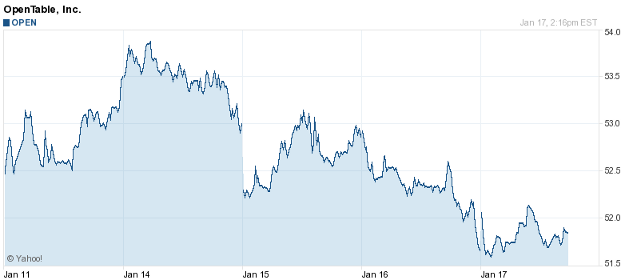 Nokia Corporation (NYSE:NOK): Current price $4.55
On Thursday, Nokia announced another series of jobs cuts, even though the company enjoyed solid pre-Christmas smartphone sales. The move is designed to help in its restructuring, but may could easily impact the sluggish Finnish economy. The handset manufacturer said it would slash 300 jobs, mostly in Finland, and transfer hundreds more other workers to Indian suppliers, thus removing them from its payroll. In the manner, as many as 820 jobs will be outsourced.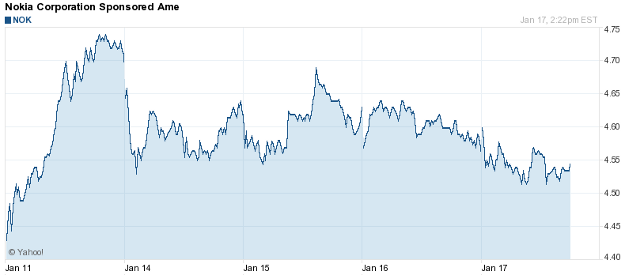 Facebook  (NASDAQ:FB): Closing price $29.68
As it moves forward with its scheme to revolutionize the $55 billion server industry, Facebook scored a run this week, reporting  some 'amazing' new features for its Open Compute Project which change the manner in which computer servers are designed and built. Analyst Stacey Higginbotham at GigaOm has characterized the new features of Open Compute as so huge that they represent the "the killing blow" to the server market. Open Compute is said to do for commercial hardware what Open Source did for commercial software and that is to enable users to design what they want.

Are these stocks a buy or sell? Let us help you decide. Check out our Wall St. Cheat Sheet Stock Picker Newsletter now >>
Hewlett-Packard Co. (NYSE:HPQ): Closing price $17.02
Zorawar "Biri" Singh, senior vice president and general manager for Cloud Services, is exiting the firm to be replaced on an interim basis by Roger Levy, the group's vice president for tech and customer relations, according to AllThingsD. It is thus far unknown if Singh is headed for another position with some other company.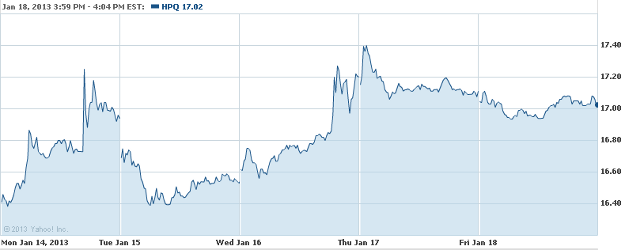 Google (NASDAQ:GOOG): Closing price $704.95
It seems that YouTube is poised to make yet another big investment in a content partner, which this time is Vevo, the music video site. The parent company Google and YouTube will acquire a minority stake in Vevo, say inside sources, who add that the deal has not been finalized. However, should it obtain, it will mark the second time in the last year that Google has invested directly in a video firm that relies on YouTube for distribution.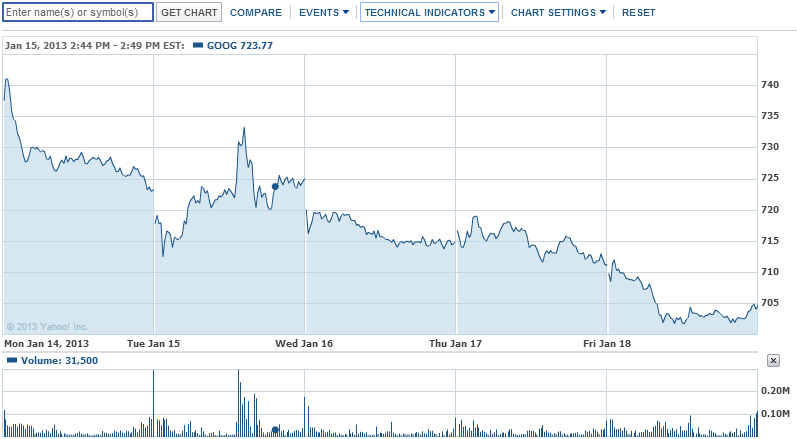 Sony Corporation (NYSE:SNE): Closing price $12.71
Sony Corp will divest its United States headquarters building in New York City at a price of $1.1 billion to a consortium headed by the real estate developer The Chetrit Group. The seller is expected to receive net cash proceeds of roughly $770 million following repayment of debt in connection to the building and other transaction costs. Sony said that the sale of around $685 million will be recorded as operating income.