Facebook's Mobile Ad Revenue Leap and 4 Other Hot Stocks
Facebook's (NASDAQ:FB) mobile ad revenue is projected to fall around $965 million for 2013, and expected to break $1.5 billion for 2014, at least according to research firm eMarketer. The 2013 figure is roughly two and a half times the $391 million that Facebook brought in for 2012, which was the first year that Facebook began executing mobile ads. Pandora (NYSE:P) falls in third for mobile ad revenue, behind ad giant Google (NASDAQ:GOOG) and Facebook. the music streaming service's estimates have been raised to $372 million for 2013 and $550 million for 2014, from a prior $347 million and $496 million.

The Royal Bank of Scotland (NYSE:RBS) is finding itself in the defendant chair, opposite 21 plaintiffs who claim that the bank misled its investors in April of 2008, the peak of the financial crisis, in regards to a 12 billion pound (about $18 billion) cash call. The claimants allege the bank published a defective prospectus littered with misstatements and omissions, CNBC said. The claim could be worth "hundreds of millions of pounds," but is still far less than the 4 billion pound case that the bank is also embroiled in.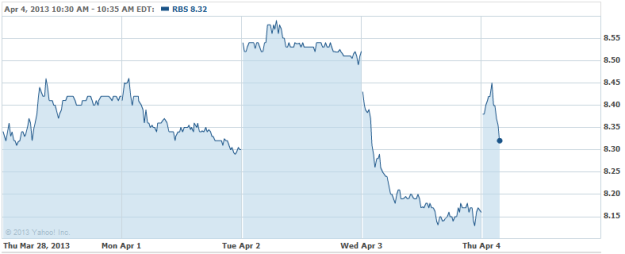 Samsung (SSNLF.PK) is stepping up its game against Apple (NASDAQ:AAPL), and will be constructing "mini-stores" inside 1,400 Best Buy (NYSE:BBY) locations across the United States, by June. The goal of the move is to showcase how its tablets, smartphones and televisions work together. The 'stores' will be employed by Samsung specialists, hired by the Korean firm, not Best Buy.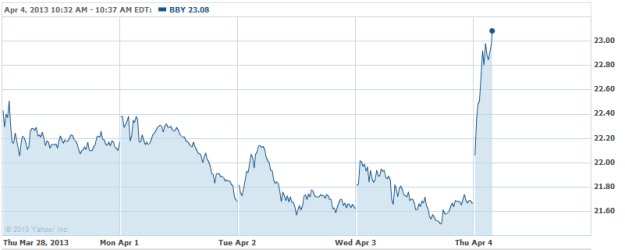 US Airways (NYSE:LCC) has announced that in partnership with ACSS, an L-3 Communications & Thales Company, the airline has received FAA certification on its wide-body Airbus A330 aircraft for SafeRoute, a set of four flight deck applications that will provide enhanced operational safety and efficiency in all phases of flight as part of the FAA's NextGen implementation program, the press release read. SafeRoute is a suite of applications including Interval Management, In-Trail Procedures, Cockpit display of traffic information to Assist in Visual Separation, and Surface Area Movement Management — in short, all tools that help increase spacial awareness, allow the plane to fly more efficiently, and help monitor air traffic, both in the air and on the ground, drastically improving the safety standards for air travel.

Don't Miss: Will iRadio Turn the Volume Down on Pandora?