Facebook's Oldest User Tops 105 and 4 Social Media Stocks Seeing Action
Facebook, Inc. (NASDAQ:FB): Current Price: $28.53
At the young age of 105, Edythe Kirchmaier is the oldest licensed driver in California and the University of Chicago's oldest living former student, and just last month, she joined Facebook. The account was set up by Direct Relief, a medical aid charity where she's volunteered for 40 years, to honor her 105th birthday.

LinkedIn Corporation (NYSE:LNKD): Current Price: $124.08
Today, LinkedIn's annual revenue is at $836 million compared to Facebook's $5 billion. However, investors are convinced that the professional networking company will show fast growth. The company's stock is near its January high, which is almost three times its $45 May offering price and over double a low hit during November. The company's shares were buoyed by consensus estimates that LinkedIn will report revenue growth of 67 percent, to $280 million, with profits more than tripling to 19 cents per share. Since it became public, LinkedIn has topped analyst expectations every quarter.
Are these stocks a buy or sell? Let us help you decide. Check out our Stock Picker Newsletter now.

Pandora Media, Inc. (NYSE:P): Current Price: $11.62
The company will keep adding to its local sales reps as it has recently added more staffers in Phoenix, Denver, Las Vegas, Houston, Minneapolis, Miami, Washington, D.C., and Boston, and others.

Zynga, Inc. (NASDAQ:ZNGA): Current Price: $3.01
Shares of Zynga Inc. and BlackBerry experienced gains on Wednesday, but the tech sector is now facing losses. The Nasdaq Composite Index saw a drop of 3 points, or 0.1 percent, closing at 3,168. Zynga's stock rose 9 percent and closed at $2.99 after the company reported a higher revenue than expected.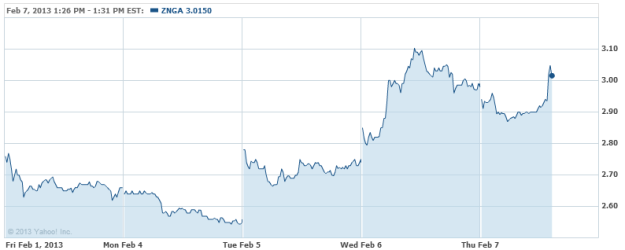 Yelp, Inc. (NYSE:YELP): Current Price: $21.31
Investors aren't very excited about the online review website this morning and the company's shares have seen a 4 percent decline in pre-market trading. Yelp reported losses of $5.3 million during Q4, a figure which is down from the $9.1 million that was posted during the same time during 2011. Yelp also saw boosts in cumulative reviews for the year and a 31 percent jump in the amount of average monthly unique visitors.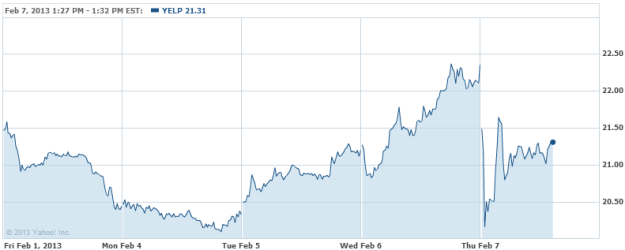 Don't Miss: Charts: Yelp Investors Not Impressed with These Results.