Facebook's Video Trial, Blackrock's Chunk of Verizon's Bond Sale, and 2 More Hot Stocks
Facebook (NASDAQ:FB): Facebook is initiating a trial of auto-playing videos in users' news feeds, potentially leading the way for video ads in the near future. The videos play silently, but clicking on them will enable the soundtrack if the user so desires. "At first, this feature will be limited to videos posted by individuals, musicians, and bands. Over time, we'll continue to explore how to bring this to marketers in the future," a spokeswoman said.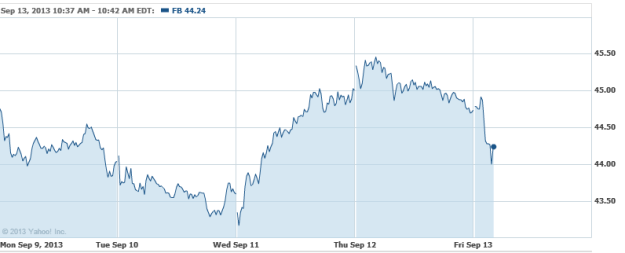 Verizon Wireless (NYSE:VZ): Pimco and Blackrock (NYSE:BLK) collectively picked up over 25 percent of Verizon's enormous $49 billion bond sale on Wednesday, which allowed the carrier to bring in the money all at once, rather than in pieces as it had originally planned for. Pimco took in $8 billion in bonds and BlackRock walked away with $5 billion, and Seeking Alpha notes that the two companies were also influential in persuading Verizon to price the debt at an above-market rate.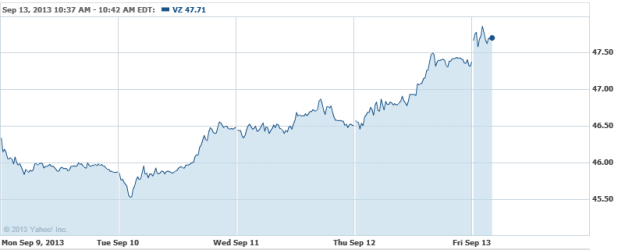 Rio Tinto (NYSE:RIO): Mongolia is looking to ease its dispute with Rio Tinto over the $6.2 billion Oyu Tolgoi copper-gold mine, with the country insisting that it is committed to a favorable business environment in the mining sector, according to a top government minister. Foreign direct investment in Mongolia plunged 43 percent in the first half of the year. The minister attributes the drop to policies including a new law restricting foreign investment in sectors such as mining with earlier legislation targeting miners operating near rivers and forests.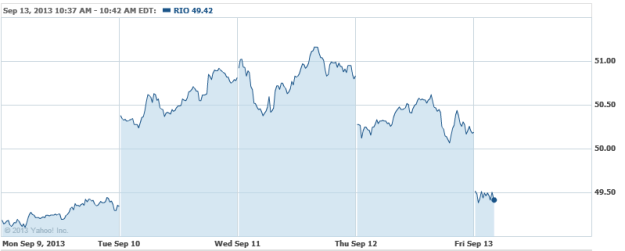 Campbell's Soup (NYSE:CPB): The Dow Jones Sustainability North America Index has welcomed Campbell's with open arms, in recognition of providing investors with long-term value while being active in conservation efforts. Slumping juice and soup sales have led the company to venture into the organic and healthy food sector.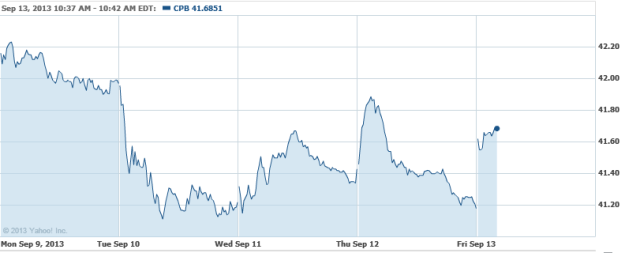 Don't Miss: Should Facebook Be Allowed to Use Your Profile for Ads?